The Closer I am to Fine
September 10, 2010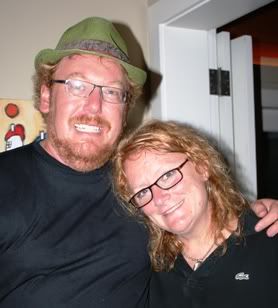 Michael & Emily Sailers
Emily Sailers
Kevin, Mike & Jay
The Closer I am to Fine
Another week, another Fest here in Key West as the island transitioned this week from the brand new 1st annual Brew Fest to one of the longest running and far more established event that is Womenfest. Womenfest has been going strong for over 20 years, bringing women from around the world for a huge celebration for lesbians and their friends. Though primarily aimed at the lesbian audience, there are plenty of events during the week-long festival that are open to all and Kathy & I as well as many other locals join in the festivities.
Graff, Sam & Eileen
So this week found us attending the final event of Beer Fest on Sunday evening, the Samuel Adams Beer Dinner at the Southernmost Beach Café as well as one of the opening events of Womenfest; a solo concert by the amazing Emily Sailers of The Indigo Girls at The Studios of Key West.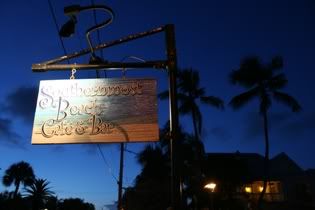 The beer dinner was a full evening dinner that lasted over 3 ½ hours and featured six delightful courses of food, each accompanied by a specially selected Sam Adams beer. The beers were all straight from the brewery and none are offered for sale commercially. We joined a table full of our friends and settled in for a fantastic evening of food, beer and friendship.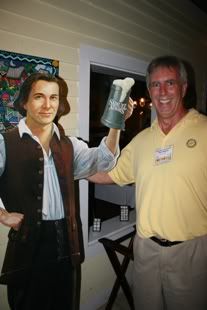 Sam & Matt
The six course meal featured enough food for a feast as each course was not a sampler, but a full plate of food accompanied by a delightful beer. The meal started with a delicious salad with blackened shrimp over arugula with blue cheese and almonds paired with Samuel Adams Irish Red. More courses of food and beer followed in slow succession, each seemingly more over the top and delicious.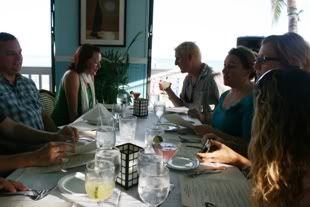 Among the delights were Lobster Gazpacho, Hoppy Steamed Clams, Beer Braised Ribs and Grilled Swordfish. Each paired with a yummy beer. It was a lot of food, topped by a delightful dessert of chocolate lava cake & American Kriek & Black Lager. It was another great Brew Fest event and a new regular addition to our annual event schedule.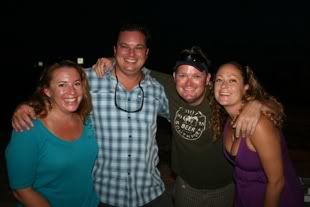 Nadene, Trevor, Graff & Eileen
Emily Sailers of the Indigo Girls has been coming to Key West to visit for years, yet has never played here, in fact she stated that it has been close to 20 years since she played a solo gig. To get both WomenFest and The Studios of Key West's Old Town/ New Folk season kicked off, she decided Key West was a safe atmosphere for a solo performance.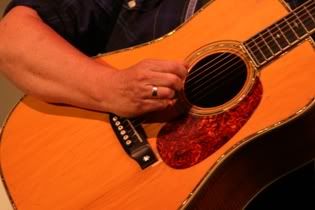 Julie & Katie
The show was an unqualified success and a truly inspiring event. The show was opened by a woman Folk singer named Julie Clark, who recently won the top prize at the Kerrville New Folk Competition and who finished second at the Folks Fest Songwriters' school a few years back. She was fantastic. I was sad to see her leave the stage, but hope to catch her playing out around town this weekend.
Mike & Julie
Emily Sailers claimed to be nervous when she took the stage, but you never would have known it, in fact her incredible performance felt more like an intimate performance in front of a few friends than a big show to a packed and enthusiastic crowd. The show was so relaxed that Emily spent as much time chatting with the crowd as playing. She even took questions and comments from individuals in what at times seemed more like a revival gathering than a concert. Hearing the emotional statements from the crowd about what her music had meant to them seemed to truly move her and she delivered a searing performance of fourteen of her songs, including most of the Indigo Girls most popular songs.
Julie Clark with Katie Duckett
After the show, Kathy & I had the good fortune to be invited to a wonderful after-party at the lovely home of Jay & Carolyn Scott in honor of Emily. It was a great party and Emily seemed relaxed and pleased with how things went with the show. She mingled easily with the party guests and was as nice and down to earth as one might expect from one of the true Icons of the modern Folk movement.
Carolyn, Emily & Jay
Julie Clark Website
Indigo Girls website