That Old Feeling
February 9, 2012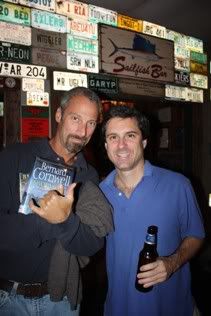 Bruce & Dan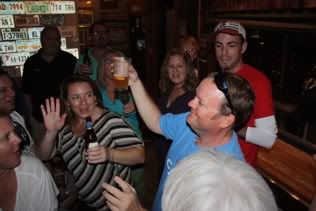 Happy Birthday Graf
Steve & Sherry
That Old Feeling
The week leading up to Valentine's Day was a busy one for us, after a relatively subdued month of January where we mostly kept a low profile and really kept our activities to a minimum, February had started with a rush that has us picking up steam once again, highlighted by a visit by some old friends, a birthday celebration and a spicy art opening in advance of Valentine's Day.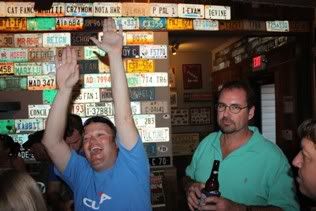 Graf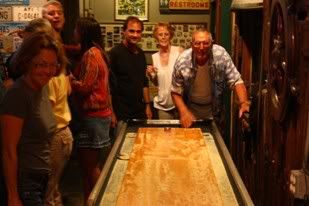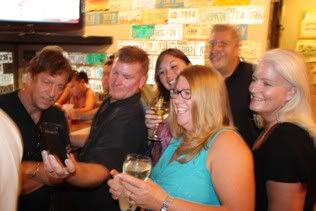 Our friend Graf invited us to his birthday celebration at the Half Shell Raw Bar last week that was a super happy hour party featuring a number of friends and family. We packed the back bar and joined in the partying and celebration of another trip around the sun for Graf. It has been ages since I spent any appreciable time at the Half Shell and it is almost unchanged, in a good way. The place is virtually unchanged in vibe and appearance in the twenty years that I have lived in Key West. Even some of the staff have been there that long.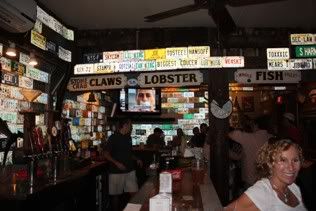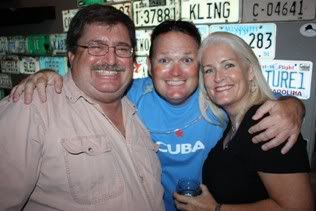 Chuck, Graf & Beth
Randy, Sue, Trevor & Nadene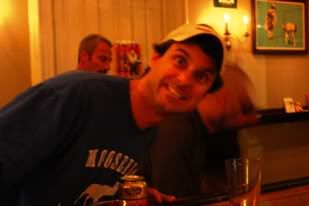 Dan
There was a time when I spent a good deal of time hanging out at the Half Shell and it was a fun trip down memory lane hanging out, playing shuffleboard and having a few drinks. Little did I know that I would be back at the bar in less than a week, hanging out with old friends yet again in honor of the visit to Key West by former residents and long-time friends Dan & Deanna.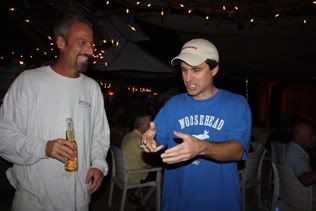 Dan, Andy & Bruce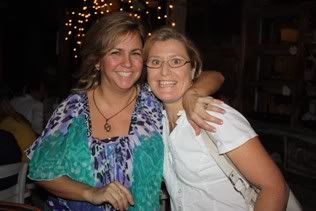 Deanna & Kathy
Dan & Deanna snuck away from their home (and kids) in Annapolis for a quick two night stay in Key West. We put them up in our guest room and had a fantastic visit with them, our only complaint that it went by far too quickly. We had a great time hanging out with them and other old friends, at the Schooner Wharf Bar, the Porch, the Hogfish, the Half Shell and finally sharing a great dinner at Mangia Mangia.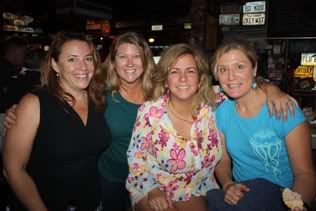 Nadene, Fiona, Deanna & Kathy
Stephanie & Elaney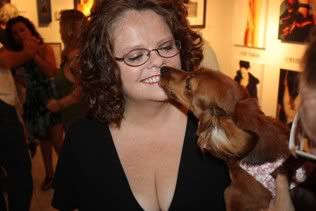 Joanie
Christa & Alexander
It was just like old times for a couple of days and we spent time with a number of old friends including a couple who were drawn out simply by the presence of Dan & Deanna. Kathy & I hope that we get to see them again soon, either here in Key West or in Maryland.
The lead-up to Valentine's Day included another fantastic and popular Art opening at the recently opened Art Space gallery on Truman. Unlike last month's show- which was packed with children checking out the famous "Mystery Blob" artwork, this show was decidedly adult and no children were allowed, though there was one "Erotic Blob" on hand. The Erotic Art show featured sexy artwork from many of Key West's finest cutting edge artists and certainly pushed the envelope.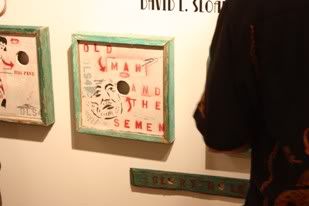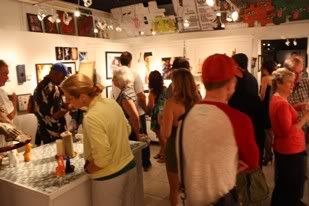 It was a packed house for the opening and was once again the place to be for the Key West hipster crowd and a few others like us. We are certainly blessed with an eclectic collection of talented young artists in Key West and many of them created works that ranged from the seductive and sexy to flat out raunchy. There was no doubt something on display for whatever your taste might be and it was a fun and funky sexy atmosphere.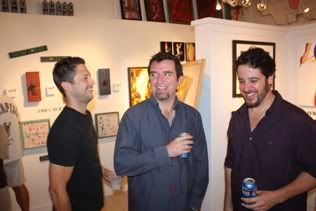 Art Space is already a force to be reckoned with on the island art scene and the creative powers of Marky & Michael who run the place are formidable indeed. It is one of those situations where you can't wait to see what they come up with next.