Low Profile
February 11, 2008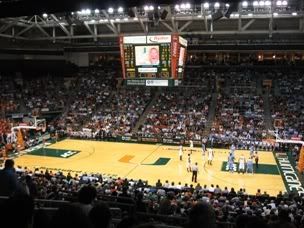 Miami vs. UNC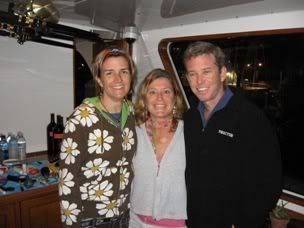 Ann, Kathy & Sean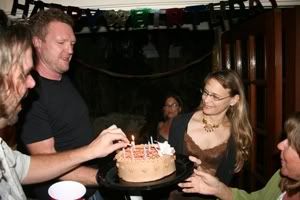 Srea's Birthday
Low Profile
The past month has flown by, mostly due to the low profile that Kathy & I have been keeping. Not that we haven't enjoyed some good times, but with a few notable exceptions, we have been largely homebodies. Recharging batteries after the amazingly hectic and busy fall and winter season has been a needed luxury.
Of course, in spite of our best efforts, we haven't been complete recluses. In fact, when we have chosen to venture out, it has been for some pretty interesting and exciting reasons. For example, a few weeks ago, I took a quick overnight trip to Miami to attend the Miami Hurricanes home basketball game against the North Carolina Tar Heels.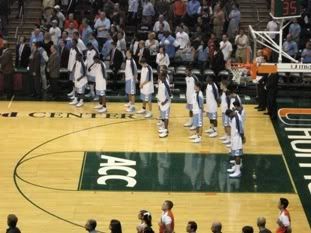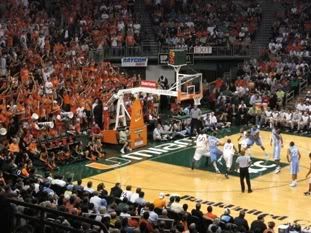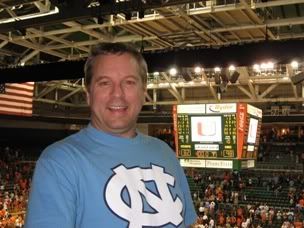 Jeff
The staff archeologist at work is a UNC grad and huge Carolina apologist..er fan…and since the Heels were playing so close, I talked him into heading up for the game. We got a room at the Holiday Inn right across from the arena on the Hurricane campus and walked over to the game. The Heels pretty much controlled the action, winning 98-82 with Tyler Hansbrough (35) and Ty Lawson (23) leading the way. We toasted the victory at the nearby Titanic Brewery at BTs before crawling back to the hotel.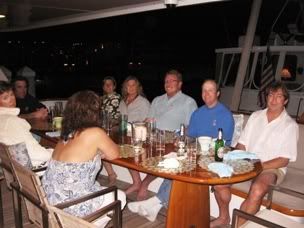 On the Sirenuese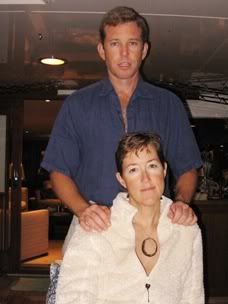 Sean & Christine
During this year's Acura Key West Yachting race week, we were pleasantly surprised by a call from a couple of Kathy's friends from her days at Proctor Academy who were here for the races. Sean Guiness and his wife Chistine and daughter Eliza were here along with Ann Luske aboard Ann's yacht
Sireneuse
. After finishing with their racing schedule, we joined them and their crew for a wonderful meal on the boat and later had Sean & his family over to our place for dinner. If the level of enjoyment is any indication, race week in Key West may be an annual stop for the
Sirenuese
.
Another highlight of the month was going to the opening night performance of Shel Shocked at the Red Barn Theatre. It was a wickedly funny and well acted series of short vignettes by the legendary Shel Silverstein. The wonderful cast includes our friends Elena Devers, Cricket Desmarias & George Murphy as well as a talented group of locals. It was laugh out loud funny and if you live in or are visiting Key West in the next few weeks you should snap up a ticket.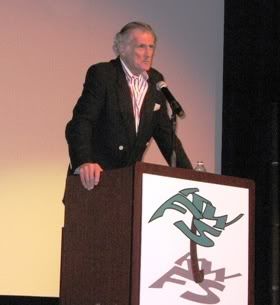 Frank Deford
Of course the regular assortment of events like the weekly lecture series at the Tropic Cinema sponsored by the Friends of the Library keep us busy as well. This month, we have had the likes of legendary sports writer Frank Deford, author Diana AbuJaber and photographer Tom Corcoran speak.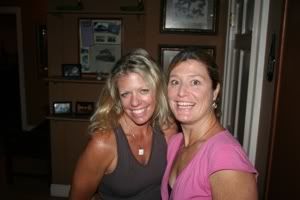 Carla & Kathy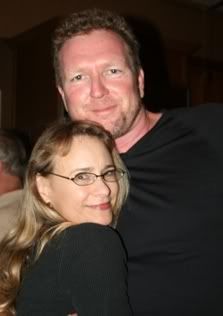 Srea & Steve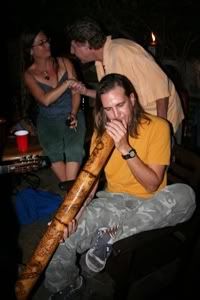 This past weekend, we attended a wonderful birthday party for our friend Srea and had an overnight visit from our good friend Shanda, a former and perhaps future Key West resident. Spending time with such good friends make us feel fortunate to have such interesting and wonderful people in our lives.
Kathy & Shanda
Red Barn Theatre
Acrura Key West Yacht Week
Sireneuse Website