Cape Cod
This area of New England is so full of history and we decided to take a little in with a trip to see the Adams National Historical Park in Quincy. This collection of sites includes the birthplaces of John Adams and John Quincy Adams the Adams homestead which was home to 4 generations beginning in 1788 when John & Abigail moved there and the United First Parish UU Church which is where Presidents John Adams and John Quincy Adams and First Ladies Abigail and Louisa Catherine Adams are buried. The old house was especially of interest because it contains a trove of actual furnishings and artifacts from the entire Adams clan dating back to the early 1700s.
Adams Home
After all the rain in Marshfield, the weather cleared and turned amazingly beautiful for our trip to Cape Cod. Bright sunshine, low humidity and temperatures in the 70s greeted us as we hit the road for the short trip from Marshfield to the Cape. Jim and India made the trip with us and we decided to camp out at the Audubon Society Wellfleet Bay Wildlife Sanctuary.
First we stopped and visited the home of another of our winter in Key West friends, Nell Husted, who lives on the Marsh in Wellfleet. She made us a delicious lunch and we visited with her and her daughter Moosi who lives just next door. It is so nice to see friends outside of the settings we are used to.
Nell, Moosi, Kathy & Michael
Next we headed over to set up camp, we had to sneak about a little because we were technically in violation of their "No Pets" rule, but being the off season still, it was not much of a problem. After setting up we toured the Highland House Museum and the Highland (Cape Cod) Lighthouse before going into Provincetown for a great meal at Napi's Restaurant.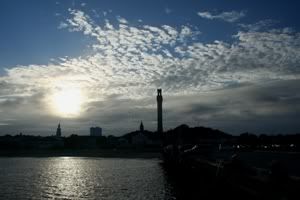 Ptown
Provincetown is a compact slightly more upscale version of Key West. There are a ton of shops, restaurants, ice cream parlors, art galleries, bars and nightclubs along Commercial Street. It is a much narrower and more compact street and it is crowded with walkers bikers and the single lane of vehicle traffic. We spent most of the day yesterday exploring the town its shops, museums and the beach. In one of the pet stores we noticed a "Lazy Dog" Provincetown shirt. The Lazy Dog line was started by our friend David Richard in Key West. There has been a link on this blog since day one and it was cool to see the logo is making it to other locales. Even more exciting was seeing the Lazy Dog Mob t-shirt featuring India for sale in the shop.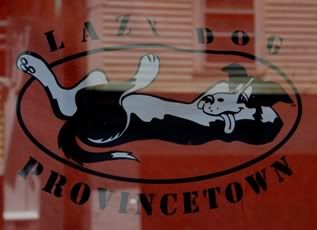 We had lunch at Nauset Beach which was packed despite the frigid 57 degree water On our way off the Cape we paid a visit to Kathy's aunt & uncle, Judy & Phil Thibeau who live in a beautiful home in Marston Mills. While there one of Kathy's cousins, Kathleen Lacey stopped by and we all drank Naragassat Beer and played this wonderful lawn game that they invented.
Phil, Jim, Kathleen, Judy & Kathy