It's Only Rock n Roll
July 5, 2015
Tim, Jason, Michael & Kathy
It's Only Rock n Roll
Kathy and I were back in Key West for a brief time, getting settled briefly back in to our normal lives before the July 4
th
holiday weekend rolled around and we found ourselves back on the road again, on our way yet again to Indianapolis to spend the July 4
th
weekend with friends and to attend an iconic new event at the Indianapolis Motor Speedway, the first ever standalone rock concert. The band had to match the size and scope of the venue and in this case, The Rolling Stones provided just the ticket.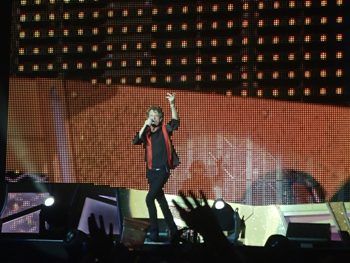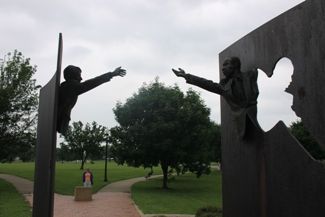 Tim, Kathy & Michael
While many concerts have been held on the grounds of the Speedway, including this year's carb day concert featuring Jane's Addiction that I attended, they have all been held in conjunction with some racing event, the Indy 500, the Brickyard 400 etc. This event marked the first time ever that the Speedway was hosting a concert in and of itself and it was going to be a big one. With my connections at the speedway and my love of music, it was a natural that I would score some VIP tickets as well as suite passes to attend the show, so Kathy & I headed back to Indiana.
Tim, Kathy and Jason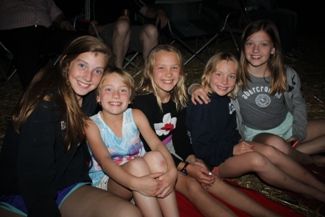 The past three years in a row, we have spent the July 4
th
weekend hanging out with my childhood friends at ODC gatherings and while there was no official event this year, being in Indianapolis made for a mini-reunion as we joined a number of our friends (and thousands of others) at the July 3
rd
fireworks display at the White River Yacht Club in Broad Ripple.
This huge, over an hour long fireworks displays is an annual event hosted by the Yacht club and attended by thousands who crowd the neighborhoods along the banks of the White River for the show. Many neighborhoods host their own mini-fireworks parties complete with live music and we joined one of the many parties with a number of our friends.
Jesse and Heather
It was especially nice to see old friends Heather and Jesse and their daughters who were also in Indianapolis visiting from their home in Colorado. It had been years since we had seen them and it was a great coincidence that they were there as well. Kathy and I had attended the First Friday Food Truck Festival at the Murat Shrine Temple before heading to the fireworks where we took advantage of the host of food trucks gathered in the parking lot of this monthly event. It was fun and delicious and the perfect way to begin the weekend.
Hunter & Ted
The fireworks were spectacular, the display seemed to go on and on and lasted for more than an hour in an impressive display of explosive delights. It was a spectacularly beautiful night and we all had a great time watching the fireworks and hanging out with old friends.
July 4
th
itself, was reserved for the concert as the Rolling Stones return to Indianapolis after a long absence. I had attended their last two shows in Indianapolis, back in August of 1994 when their Voodoo Lounge tour played at the RCA dome and prior to that the Steel Wheels tour that played the same building, then known as the Hoosier Dome in 1989. Mick Jagger had vowed never to return to Indy after the 94 show failed to sell out, but obviously his position had softened as they were here on their Zip Code tour at IMS.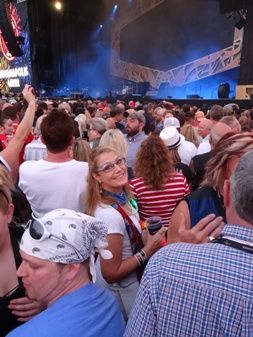 Kathy
I invited my friends Tim and Jason to join Kathy & I, and we headed out to hand out in the suite belonging to my friend Brent for some pre-show food and libations. It was nice with great food, free drinks and delightful air-conditioned comfort to enjoy the pre-show. Our VIP access made it so we did not have to sit out in the hot sun saving a spot in the crowd as we had an area right in front of the stage saved for us.
Saints of Valory
We could come and go as we pleased, so we went down to get a close-up view of the first opening act, The Saints of Valory then returned to the suite during country act Rascal Flats, the second opener, before securing a great spot up close to watch the Stones. The staging was massive and the crowd was well over 50,000 people and it was a pretty amazing thing to see.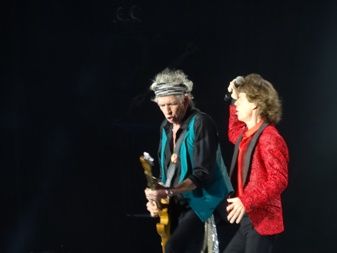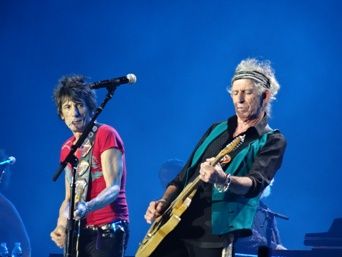 Brent & Michele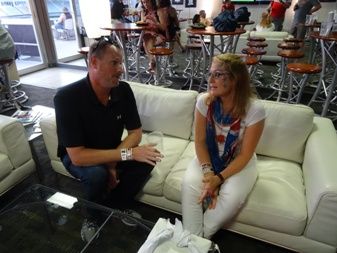 The Rolling Stones were amazing. Just short of his 72
nd
birthday, Mick Jagger was a bundle of energy running up and down the massive stage and catwalk like a milenial and the rest of the band was equally energetic. They ripped through 19 classic songs and played over two straight hours covering many of their classics along the way. It was a staggering display and one that few bands could possibly pull off. Even a nasty fall by Keith Richards running down the catwalk during "Miss You" failed to slow the band as he bounced right up and kept playing.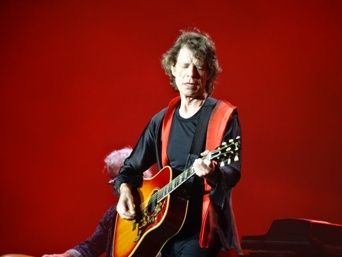 While there were a few logistical hiccups, for the most part the show went pretty smoothly and we had an amazing time experiencing one of the all-time classic rock bands who still seem to be playing at a peak level in spite of their ages. I am not sure how many more tours they still have left in them, but I am sure glad that we were able to make it to this show.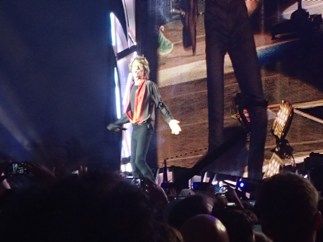 Ron Wood