Wash Out
February 29, 2012
Dale Earnhart, Jr.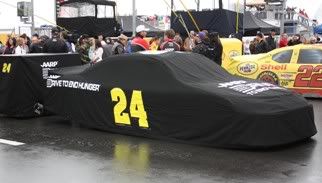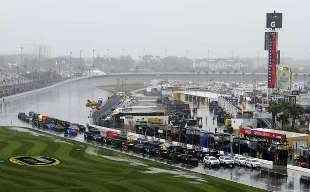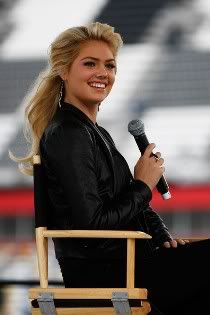 Kate Upton
Wash Out
I have always sort of wanted to attend the Daytona 500. I am not a huge NASCAR fan though I have been to a number of races at Michigan International Speedway and of course the Brickyard 400 in Indianapolis which were fun, though not enough to hook me. I am born and breed Indy Car fan and have never caught the NASCAR bug, not that I can't appreciate the racing, it just never has grabbed me.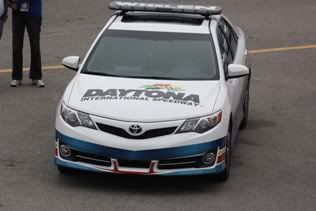 The Daytona 500 though has long appealed to me, as the unquestioned most important race on the NASCAR calendar, I have always wanted to check it out and see how it compares to the Indy 500 which I will be attending for the 40th straight year this May. Daytona has the most history and prestige of any race on the NASCAR schedule and is one of the few races in the series that I do make a point to watch each year (the others being the short track at Bristol and the road courses). I am also interested in attending big events, which Daytona certainly qualifies as. It is an event that is larger in magnitude than the race itself, people may know nothing about racing, but they have heard of Daytona.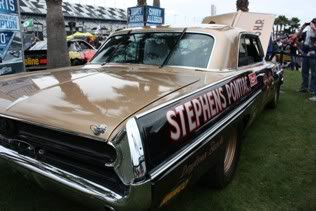 I drove over from Orlando early Sunday morning under cloudy, overcast and threatening skies as I wanted to take in as much as the pre-race hoopla as possible. I'd purchased a pass to get access to the garage area and fan friendly infield where I could watch the pre-race interviews, concert featuring Lenny Kravitz and driver introductions.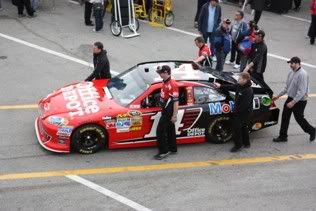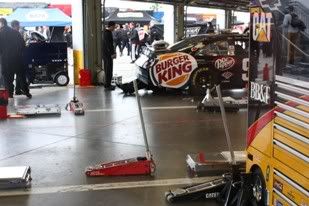 Regan Smith
While certainly not even close to the size and scope of the Indy 500, or actually even the brickyard 400, Daytona is a pretty spectacular setting. I think I may have been the only person in attendance not wearing some sort of swag of a favorite team or driver. These fans are nothing if not dedicated. The sheer scope of haulers and souvenir stands dwarfs anything found at Indy, but that is about it. The crowd size, facilities and amenities seem almost quaint by comparison, though the passion is about the same.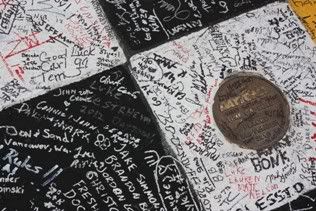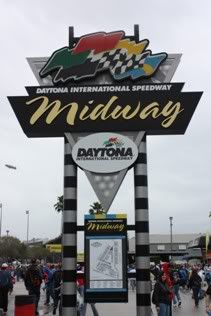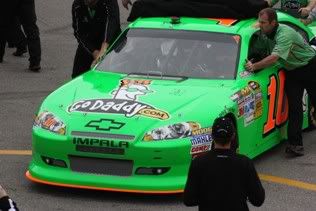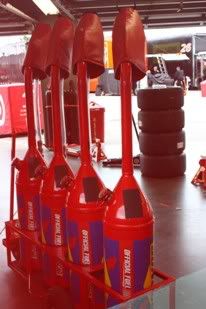 I had a great morning wondering around the garage, pits and infield checking stuff out. The access was better than I had imagined and I was able to get fairly close to all the action while trying to avoid a slight drizzle that came and went throughout the morning. I saw a number of celebrities including GOP Presidential candidate Mitt Romney, who was out pressing the flesh, Sports Illustrated Swimsuit covergirl Kate Upton and TV's Glee star Jane Lynch.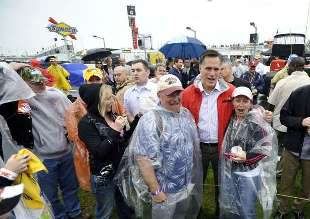 Mitt Romney with fans
Kate Upton & Jane Lynch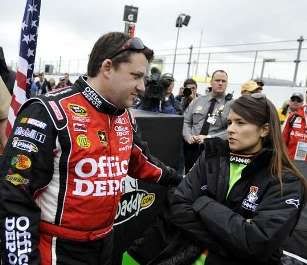 Tony Stewart & Danica Patrick
I was also on hand for the short concert featuring Lenny Kravitz, who seemed a bit out of place in front of this crowd, but played a great short set. Next up were the driver introductions, which enabled me to get a pretty close view of all the drivers including defecting Indy Car star and the center of attention, Danica Patrick. It was all pretty cool and all seemed well as the track dryers were just about finished drying up the latest drizzle when the skies opened up and a deluge struck. It was all downhill from that point as there was nowhere to escape the monsoon and even under the stands wrapped in a raincoat I was drenched. It was misery.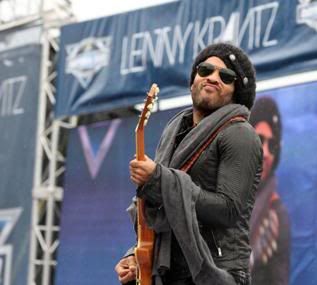 Lenny Kravitz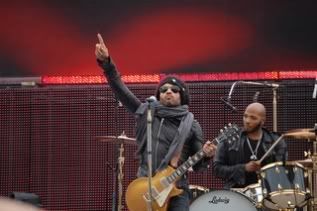 After a couple of hours, I could take it no more and even though they had not officially called the race; that was it for me. I was on the road back to Key West two hours later when the official word that for the first time in 54 years, the race was postponed until Monday, I had neither the opportunity or much desire to stay, especially since Monday's forecast was just as bad.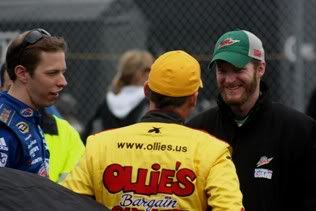 Brad Keselowski, Dave Blaney & Dale Earnhart Jr.
Kasey Kahne
Kyle Busch
Something about the East central coast of Florida has it out for me as I drove home frustrated again, just as we have on three attempts to watch a shuttle launch. At least this time I got to see the pre-race activities and to see what Daytona is all about. Who knows, I may actually return someday and see an actual race. Until then I will just have to keep my sights on being back in Indy in May.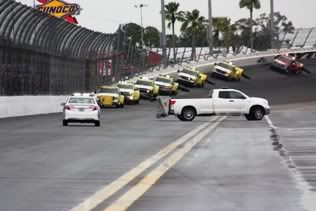 Tony Stewart