Home
August 30, 2006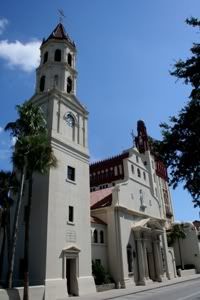 St. Augustine
After 101 days away, 28 states and 14, 904 miles, we have arrived at home in Key West safe and sound. It looked a little sketchy there for a moment last night driving through Tropical Storm Ernesto, but other than about 10 minutes of scary wind and blinding rain, the storm turned out to be, thankfully, much less of a problem than we had anticipated.
Castillo de San Marcos
We began the day in beautiful hot sunshine in St. Augustine. The historic oldest city (established in 1565) in the US, is a tourist Mecca that reminded us in many ways of Key West. Perhaps it was the collection of similar stores or maybe it was the mini conch trains and trolleys that seemed to be everywhere on the narrow streets. We walked the streets with India in tow, stopping to have lunch at one of the many outdoor cafes that allowed us to bring India in with us.
Our next stop was the famous centerpiece of old St. Augustine, the Castillo de San Marcos fortress that was built beginning in 1672 and has over 300 years of Florida history and battle being under the control of the Spanish, British, Native Americans, Colonial Americans and US Military at various points of its fascinating history. It really is an amazing structure. After leaving the fort, we drove about 20 miles south along A1A to another related site, Fort Matanzas, which was built to protect the city from attack along the Matanzas River which is now part of the intercoastal waterway.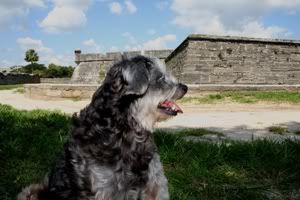 India at Castillo de San Marcos
Ernesto Driving
Along the way, we kept hearing the media hype about the impending Tropical Storm, so we headed south early in the afternoon, planning to stop somewhere in South Florida, we planned to drive over and down the western side of the state to avoid the heavy rains, but we saw no signs of bad weather, so we just drove down I-95 and the turnpike to Homestead. We got a little rain there, but figured we may be able to get through to Key West before the worst of the storm hit. It turned out to be the wrong choice because almost as soon as we got on US1, we had heavy rain and wind. It was a tricky drive to Key West, especially going over the bridges, but we made it home just before midnight and found our house and cats awaiting our arrival. Many thanks to Colin Rudd who was our house sitter over the summer, we could not have done the trip without knowing our home and cats were in safe hands.
Surprise Colin!