The Folkston Funnel
August 29, 2006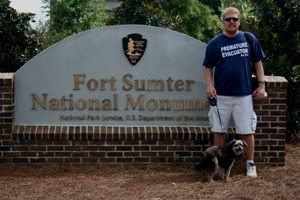 Our journey us nearing completion as we have made our way from Charleston into St. Augustine, Florida with a stop at the infamous Folkston Funnel in Folkston, Georgia. We have been keeping a cautious eye on Tropical storm Ernesto, which is currently passing just south of the Florida Keys and is on a collision course with us as we head south. Thankfully it is not a terribly strong storm and will only great us with some torrential rains as we cross paths.
Charleston Harbor
Our day yesterday began in Charleston, South Carolina which is a truly beautiful and historic port city. We stopped at the Fort Sumter National Memorial visitor center and later toured the historic downtown. Fort Sumter, located mid-harbor at a prime point for protecting the city, was the site of the first shots of the Civil War. The visitor center features displays, including the huge original flag that was flying over the fort in 1861 when the war started. The city is full of beautiful architecture and historic structures and has the feel of the Old South.
After touring Charleston we headed south again. In South Georgia, just across the Florida line is a small town, Folkston, that bills itself as the greatest spot in the country for trainspotting. We had seen a feature on the NBC program "Sunday Morning" that had shown how the town has taken its one major asset and utilized it in promoting itself as a tourist destination. It was just the sort of eccentric place we had hoped to include on our journey. The town has set up a viewing platform complete with ceiling fans and a loudspeaker which broadcasts the radio transmissions between the trains and the rail traffic controllers. We were there for just over an hour and the funnel did not disappoint as three trains passes during the time we were there. It was a quirky yet fun place.
We continued into Florida, driving past the Okeefenokee Swamp and through Jacksonville, stopping for the night in the historic oldest city in the US, St. Augustine.
It is slightly more difficult traveling with a pet as finding a pet friendly hotel can sometimes present a problem, but we found a nice Ramada Inn that accepted pets and had a nice pool and hot-tub so we were happy. Today we plan to explore the town before heading south, waiting to see what happens with Ernesto before heading home.
Folkston Funnel Website