Holiday Lights Bike Tour
December 17, 2009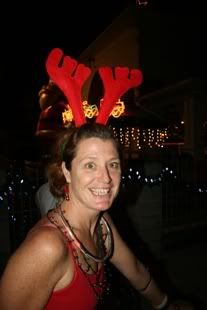 Kathy
Holiday Lights Bike Tour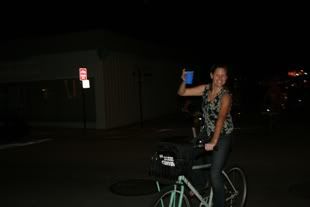 I don't think that I have ever been to a place where people seem to get more into putting up Christmas lights than here in Key West. I think it is over-compensation for not being able to experience the cold, snow and general feeling of the holidays that one finds up north, but maybe we are just a festive lot. There is also the matter of the highly competitive lights contest held each year… whatever the reason; Key Westers do it up for Christmas.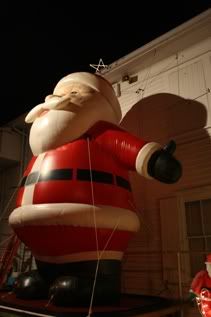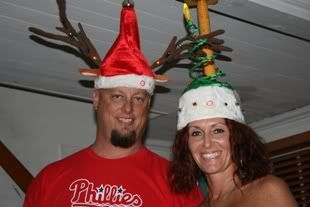 Scott & Wendy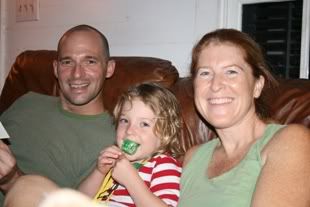 Eric, Rosie & Betsy
Kathy & I are not immune and this year we added even more lights to our growing holiday display. We are now a regular drive-by spot on the conch train and trolley holiday lights tours. Of course, the best way to experience the lights is to get up close and personal which we did again this year by participating in a Holiday Lights Bike Tour organized by our friends Nan & Mark.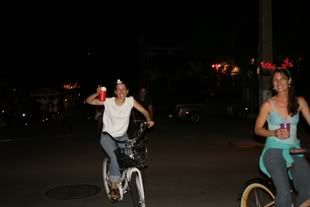 The tour seems to grow in popularity every year and this year we had a huge throng of bikers that took over the streets of Key West to cruise around and look at lights. This year we even had an electric car join us, to carry an injured participant who could not bike.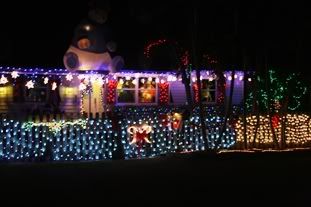 As always, the crowd gathered at Nan & Mark's home for some pre-tour festivities that included Mark's delicious White Russians which warmed the soul before heading out into the frigid 75 degree evening.
Arlo & Tom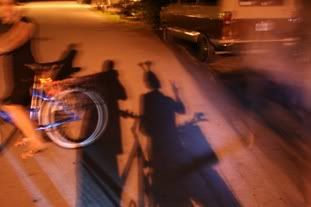 Despite the large crowd, we managed to snake our way around town, all the way up through New Town and back, without losing a single rider. We made a few planned stops along the way and generally had a fantastic time with our friends. It was just about a perfect evening. The post tour party was held by our friends Haven & Elena and by some accounts got a little out of hand. Only in Key West can a joyous evening of holiday cheer end up with drunken, naked swimming in the pool.