Back in the swing
April 24, 2009
Taste of Key West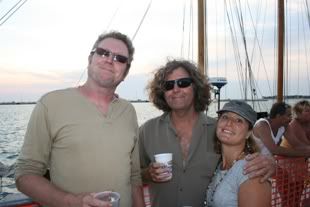 Steve, Rick & Kathy
Back in the swing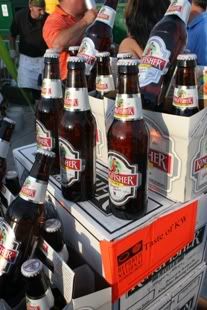 Since returning from our trip, we have made a noticeable slow down in the hectic pace of activity that we maintained during the busy season. Events have not really slowed down that much in town, but we have elected to take it easy a little, relax at home and have really had a limited schedule as far as being out on the town since our return.
Kim with her father.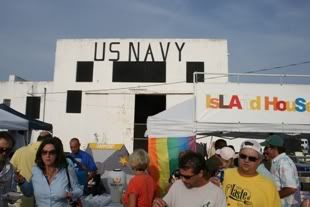 There have been a few events that we could not miss, first among them was catching one of the final performances of "Steel Magnolias" at the Red Barn Theatre before the show closed. I am so glad that we made it because the show was wonderful. Our friend Elena played the role of Shelby and gave a remarkable performance, certainly the hi-light of a great cast. She had a scene where he character became ill and I actually thought she was in distress. Amazing.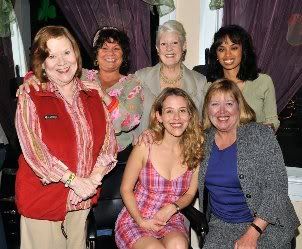 Cast of Steel Magnolias *Red Barn Theatre Photo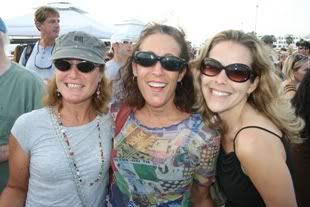 Kathy, Martha & Elena
Another interesting Key West event was the first Hometown Pac, "meet the candidates" gathering which was held at Salute restaurant. It provided the first chance for announced and potential candidates for local office to greet the public and as always with Key West politics, it provided quite a show. In support of one of the candidates position in favor of nude beaches in Key West, two young women rode their bikes through the crowd topless creating quite a stir. What a way to kick-off the ever-entertaining political season.
Salute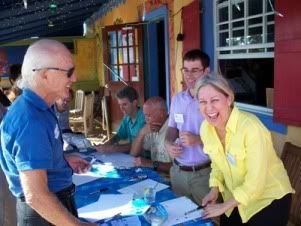 Hometown Pac meeting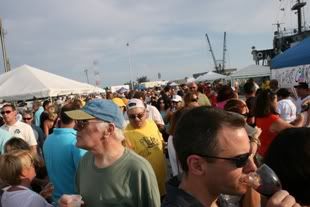 Of course the biggest event since our return was the annual Taste of Key West held at the Truman Waterfront once again. Over 50 Key West eateries and countless wine and beer stations featuring selections from around the world provided the crowd with a wonderful evening out. Kathy, her father Jim and I all rode our bikes down to join the throng for some delicious food. As always it seemed as if all of Key West came out, all to raise funds for AIDS help. They must have made a fortune because there was a ton of food sold.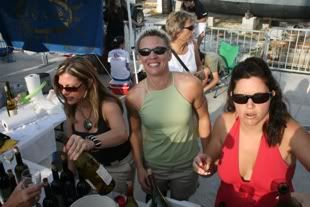 We did miss a number of other great events that we might normally have attended, including the Conch Republic Days celebration, but we needed a break and Kathy has been busy working in the yard creating a vegetable garden. Our home was also recently featured in the home section of the Key West Citizen. There is a link to the story below if you are interested.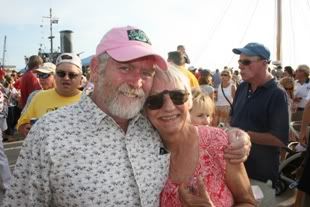 George & Christina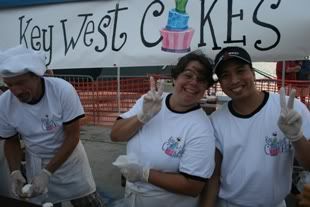 Key West Citizen Article