Guster & Jukebox the Ghost
February 7, 2011
Guster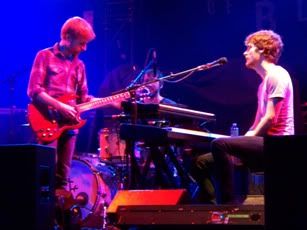 Jukebox the Ghost
Guster & Jukebox the Ghost
The catalyst for our trip to Orlando this time was the concert at the House of Blues at Downtown Disney that featured two great bands, which we thought that Dakota would enjoy seeing, Guster & Jukebox the Ghost. Kathy & I are big fans of Guster, having seen them multiple times since I first saw them at the 9:30 club in Washington DC back in 2000. In fact we saw them just last August when we were in Boulder.
Guster in Boulder, August 2010
Guster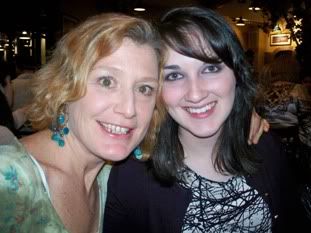 Kathy & Dakota
This time Guster was to be joined by an exciting relatively new three piece young band called Jukebox the Ghost, who we had never seen, but were excited to check out. Before heading over to the House of Blues, we had made reservations at one of our favorite Orlando restaurants, the fabulous Greek eatery, Taverna Opa.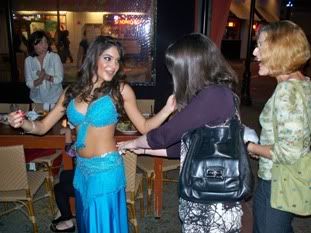 Opa features amazing Greek cuisine and a crazy festive atmosphere that has gained it a massive popularity. In fact they have become so popular that the restaurant has expanded since we last visited a couple of years ago. It seems, at least on the night we were there, to be particularly popular for well dressed large groups of young women. There were three such groups just while we were there, all celebrating things like 21st birthdays and such. The restaurant encourages these gatherings by allowing patrons to dance upon the sturdy wooden tables, featuring a talented belly dancer and having the staff toss massive amounts of napkins through the air at random points.
Jukebox the Ghost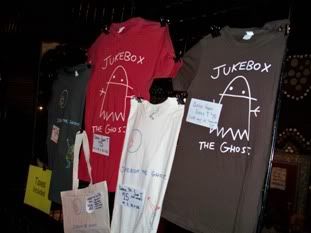 The food is the real draw though and it was tasty Greek fare that had us full before we headed over to the concert. The place was pretty crowded, but not quite sold out and we were able to get a decent spot just to the right of the stage.
Jukebox the Ghost opened the show and wowed the crowd with a really great performance of songs from their two studio CD releases. The band is unique because they are a three piece band that is fronted by piano man and lead singer, Ben Thornewill and features a drummer and lead guitar and that is it.
Jukebox the Ghost
The band was in fine form, playing about 45 minutes highlighted by cuts from their two CDs, "Live and Let Ghosts" and the recently released, "Everything Under the Sun". This included the hit "Hold It In" and the recent single "Schizophrenia". They also played a wonderful cover of the 1980s one hit wonder by Donna Lewis, "I Love You Always Forever", which you can check out in the youtube clip above.
Guster sings about Florida
As great as Jukebox the Ghost was, it was quickly evident why Guster was the headliner once they came out and launched into their set. Amazing as it may seem, the majority of the band has been playing together for 20 years and it is evident in the nearly flawless performance they delivered. They played almost two straight hours, displaying all the traits that have gained them the large cult following that has kept them playing all that time. The three-part harmonies, crazy good percussion by Brian "Thundergod" Rosenworcel and the trademark funny spontaneity that is part of every show were all on full display.
Seeing Guster is fun, they have a great time and the audience has a great time and they are immensely talented, something you may not get if you watch the two clips that are included here, which feature the more humorous aspects of their performance. If you are not familiar with these two fantastic bands, and sadly many people don't seem to be, you should check them out as soon as you can.
Guster
Brian covers the Red Hot Chili Peppers
Opa Restaurant
Jukebox The Ghost website