St. Pete Grand Prix
March 29, 2010
Danica Patrick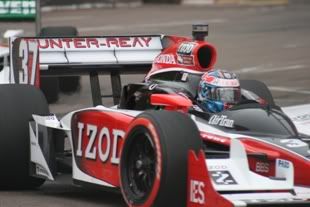 Ryan Hunter Reay
Winner Will Power
St. Pete Grand Prix
Race day itself dawned clear and sunny, sadly it was not to last as the forecast called for major rain to hit St. Pete later in the afternoon. In order to beat the rain, I skipped the wonderful B & B breakfast at the Larelle House and headed down the street to the track to watch the final Indy Car warm-up practice. The place was virtually deserted so early in the morning and I was able to roam freely about the paddock and get nice and close to the action.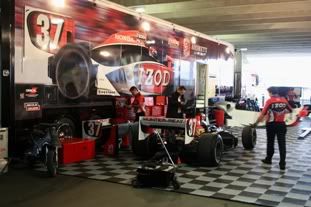 Kathy remained and enjoyed another wonderful meal at the Larelle House until I joined her late in the morning to check out and get ready for race day. We had a few hours until the race was scheduled to start and opted to skip watching the Indy Lights support race in order to spend some time exploring St. Pete on our bicycles, which we had brought along with us from Key West.
Ryan Briscoe
We rode along the waterfront, exploring the area around the Pier and much of the downtown area before settling on going to the Florida Holocaust Museum. The museum, while not having the emotional impact of the incredible National Holocaust Museum that we went to earlier this year in Washington DC, still has a number of excellent exhibits that educate visitors about the horror of the Holocaust.
The centerpiece of the museum is an original box car that was used to transport prisoners by the Nazis to the death camp at Treblinka. It is one of only 3 such cars in the United States and has been left virtually untouched in its original condition. Seeing it really brings home a tiny portion of the incredible suffering that Holocaust victims endured.
Florida Holocaust Museum
It was somehow fitting the mood that as we left the museum, the rain began to fall. Small drops became a torrent and Kathy & I sought shelter in a small deli for lunch. The sheer amount of rain made it impossible to even consider starting the race.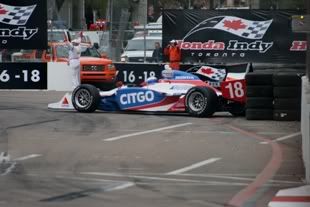 Milka Duno
We decided to join the crowd of Hoosiers at the Ponce de Leon hotel who were waiting out the rain with food, drinks and even a little gambling. It was a fun diversion, one that Kathy & I enjoyed until they eventually called the race, late in the afternoon.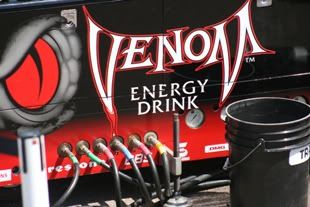 Rain soaked track
We had already made plans to travel on to Brooksville to visit friends that evening, so we made the decision to not stay over to watch the race. The race was rescheduled for 10 AM Monday morning, and I was able to watch it in comfort in Brooksville. Will Power came through with his second straight IRL win, beating Justin Wilson and teammates Ryan Briscoe and Helio Castroneves.
Florida Holocaust Museum