So it begins….
October 20, 2006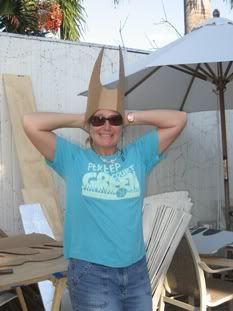 Kathy trys the headgear!
So Fantasy Fest is finally here, today the first official Fantasy Fest events begin with the Caribbean themed Goombay Festival in Bahama Village and the Coronation Ball for the official King & Queen of Fantasy Fest. We have gotten busy on our costumes and float construction is moving along nicely. This is no doubt the most interesting and exciting time of the year in Key West. By next weekend, upwards of 100,000 visitors will descend on the island for the party's culmination, the Mardi Gras style parade next Saturday night.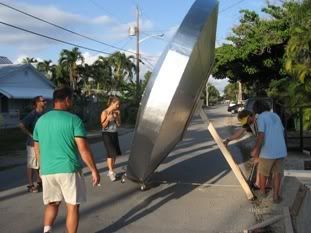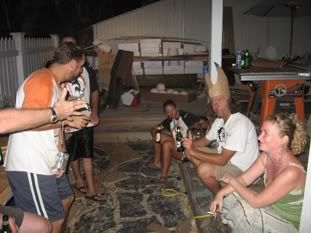 There is so much going on in Key West, it is impossible to participate in everything. Our time is limited and we have been trying to squeeze in as much as possible. In addition to all the Fantasy Fest activities, there is a wonderful writer's conference in town sponsored by Florida International University. A number of wonderful writers are here and each evening this week, there has been a free public reading. They include Les Standiford "Hell or High Water", John Dufresne "Louisiana Power & Light", Dennis Lehane "Mystic River" and Dan Wakefield.
Dan Wakefield's classic semi-autobiographical novel; "Going All The Way" documents the exploits of members of my father Bill Blades friends at Shortridge High School in Indianapolis during the 1950's. Bill & Dan were high school classmates and the novel is a wickedly good recreation of the experiences of their generation. Made into a film, starring Ben Affleck, the book is worth checking out.
So today, Goombay Fest begins; many Key West locals find this to be their favorite of the many festivals held each year. Goombay is a local's event and often you will see friends and acquaintances that you have not seen in ages despite living on a small island. Our float group is planning to dress in costumes and take a section of the float down to the popular corner in front of Blue Heaven restaurant tonight, but I doubt Kathy & I will be able to participate cause other commitments at which being dressed as an alien may not be appropriate. I think our float is going to be a huge deal, mostly because we are combining efforts from two of the most creative and interesting float building groups from past years, our group, led by the eclectic and talented Rick Keith & Steve King and the Lazy Dog group headed by Dave Richard & Dave Hutchinson.
Steve paints a Saucer.
http://www.goombay-keywest.org/
http://www.danwakefield.com
http://www.les-standiford.com
http://www.johndufresne.com
http://www.dennislehanebooks.com