Indy Qualifying
May 25, 2011
Pole Winner Alex Tagliani
Indy Qualifying
Qualifying for the Indy 500 is always full of drama and excitement and this year featured the additional drama of the largest group of car/driver combinations (41) in years and the impact of the crazy May weather which cost the teams days worth of potential practice and created havoc during the qualifying. It made conventional planning obsolete and made for plenty of nervous teams vying for the coveted 33 starting positions.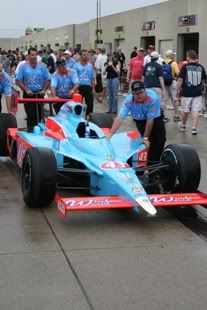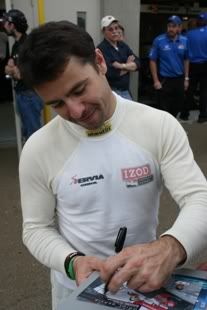 Oriol Servia
The newish qualifying rules called for the fastest 24 drivers to qualify on Saturday, with the remaining nine on Sunday or "Bump Day". There is also the race to get in to the fast nine on Saturday which led to a shoot-out for the top nine spots at the end of the day. Throw in the threat of rain and it made for a very interesting couple days of qualifying.
The big surprise was the success of the smaller teams at the expense of the larger better funded operations. Alex Tagliani led the way, snaring the pole by being fastest in both rounds of qualifying in an impressive effort for Sam Schmidt Motorsports. He beat the perennial front row team of Chip Ganassi, which suffered uncharacteristic mistakes by running their cars out of fuel in the final round. Scott Dixon still managed to take the second starting spot, salvaging something for the team.
Paul Tracy
Of course, Ganassi had a great day when compared with team Penske- which only got two of three drivers in the top 24, with pole favorite Helio Castroneves managing only 16th quick- his worst Indy start ever. Will Power was their best effort- managing only 5th.
Worst of all was the performance of the famed Andretti Autosports team which managed only 1 car in the top 24 (part-timer John Andretti), then suffered through a wickedly bad bump day as well when two of their drivers failed to even qualify for the race. Marco Andretti actually had to bump his teammate Ryan Hunter Reay as the final gun sounded on Sunday. It was tough to watch, especially since my friend Jason works for the team. Hopefully a great race will erase those memories.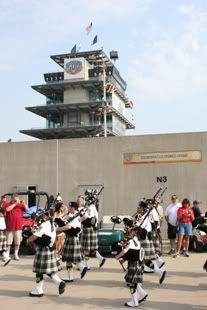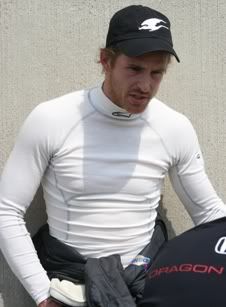 Scott Speed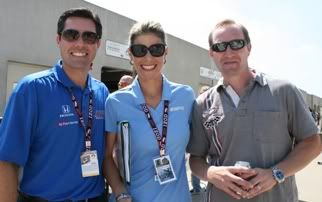 Larry Foyt, Jamie Little & Jaques Lazier
It was an exciting weekend overall and I was thrilled that four women drivers made the show- including an amazing effort by Simona De Silvestro. Pippa Mann, Ana Beatriz and Danica Patrick also qualified for what is one of the deepest fields in terms of quality drivers in years.
Justin Wilson
It looks like it is going to be an exciting race and I can't wait to get back to participate in all the fun and excitement of the centennial celebration this week.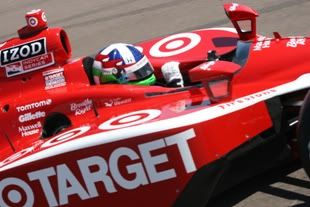 Dario Franchitti