Winston Salem- July 4th
July 10, 2008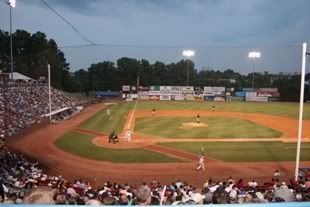 Winston Salem-July 4th
The July 4th weekend offered an opportunity for a quick visit to Winston Salem, North Carolina. Kathy is headed back towards home from California and stopped in Colorado Springs for the holiday to see her brother Chris and his family. For me, the extra day off work allowed me to get a convertible rental car and head off to North Carolina with our dog India.
My mother, Marta lives in Winston and was pretty excited that we made the trip up. We left after work on Wednesday night, driving to Ft. Pierce for the initial leg of the 17 hour drive. Thursday, we drove the remainder of the distance, making a stop in Daytona to visit the Daytona Experience at Daytona International Speedway. It was fun to be there on a NASCAR race weekend, it had all the excitement and anticipation that a major race brings. The museum was somewhat of a disappointment, certainly not worth the hefty price. The Indy 500 museum is far superior and costs all of $3.00, but at least I can say I have seen it.
We arrived in Winston Salem in time to go to dinner at the Foothills Brewery. My sister, Marika and her husband Brian came in from their country home to spend the weekend in town and we all had a nice meal with the crowd of college students gathered at the brew pub for trivia night.
Marta & Jack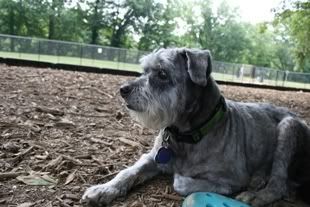 India
We spent July 4th enjoying family, beginning with a trip to the Washington Park Dog Park with India & Marta's dog Jack. It was Jack's (and Marta's) first trip to a dog park. Jack did great and Marta did ok, she needs to be less nervous, but for a first trip good. In the afternoon, we all went out to lunch and to see a movie. There are not a lot of fireworks options in Winston Salem, we opted to spend the evening at the Winston Salem Warthogs minor league baseball game. The Warthogs were up against the evil Frederick Keys who beat the hogs 10-4 in a longish game.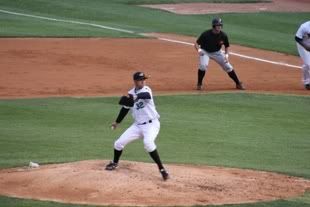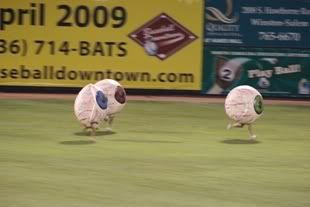 Wally the Warthog
The postgame fireworks were worth the wait to the delight of the packed house at the game. This is the final year of the Warthogs as the team will have a new name and play in a spiffy new stadium next year.
Marta at game
Saturday, it was another trip to the dog park, this time Jack did much better, going off leash and frolicking with a pack of much larger dogs. I thought poor Marta was going to have a seizure, but she survived and Jack enjoyed himself immensely. We spent the afternoon at the mall, before heading out to a Mexican dinner. It was too short a visit to be sure, as I headed back to Key West early Sunday morning, but it was a great time. Hopefully we can get back sometime soon.