Michael Franti & Spearhead
May 19, 2010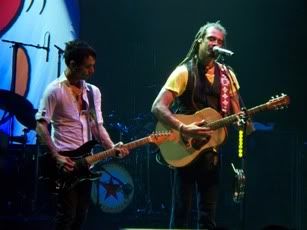 Michael Franti & Spearhead
Last fall, we had the treat of catching a couple of shows featuring Michael Franti & Spearhead as part of the Traveling Circus and Medicine Show tour that also featured the Counting Crows and Augustana. Kathy & I both thought that Franti & Spearhead were the hi-light of the show, which is saying something considering that I am a huge Counting Crows fan. We vowed that if Franti ever returned to South Florida as a headliner that we would try and go see him again. Well thankfully for us, he decided to kick off his solo summer tour at the Fillmore in South Beach.
Kathy & I made the easy drive up to South Beach, checking into the Clay Hotel and grabbing a bite to eat on Lincoln Road before heading over to the venue a couple of blocks up Washington Avenue. Franti & his band Spearhead did something that I had never seen in attending close to 1000 concerts, they set up their gear for a free pre-show mini concert on the sidewalk outside the venue. Thankfully I was able to grab some videos of this (and the show itself) from youtube so that you can check it out.
"Say Hey" –Preshow * Recorded by Steve @ Cheesehead Productions
We had never been to the Fillmore which is part of the Jackie Gleason Theatre complex and it is too bad because it is a great and well designed venue, with a large layered floor area in front of the stage and seats beyond that that gradually slope up offering a good view from just about everywhere. There are also a number of huge beautiful chandeliers inside, the entire place is first class.
"Hey, Hey, Hey"*Recorded by Steve @ Cheesehead Productions
The opening act was one that neither of us are familiar with, One Eskimo. They played about a 40 minute set that featured their mostly acoustic ambient sound that though very different than Spearhead was quite good. The band hails from London and they are worth a listen. We are always happy to hear new bands, especially when they are as good as these guys.
"Everybody Ona Move" * Recorded by Steve @ Cheesehead Productions
Franti's music is a blend of reggae,hip-hop, funk and rock and this tour is to support the release of his upcoming new CD, "The Sound of Sunshine" and we were treated to a number of the new cuts during the energetic, wonderful show. The energy the man brings to the performance is contagious and the crowd was energized from the outset.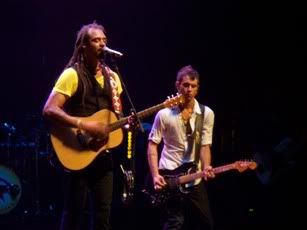 It also helps that he is incredibly fan friendly, often leaving the stage and venturing out into the crowd while playing, sometimes for extended periods. He also has a habit of bringing people from the crowd onstage to join him, even strapping guitars on some audience members. In what has become a staple of his shows, he wraps things up by bringing up any children in the audience ( and I was surprised how many were there) to join him in playing his radio-friendly hit "Say Hey, (I Love You)". It was a great show.
Michael Franti & Spearhead Website