Groundhog Day
February 3, 2011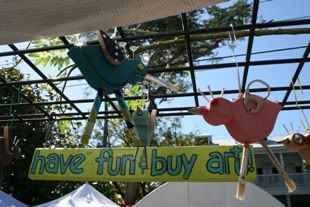 Folk Artist Mojo
Groundhog Day
D.J. #1: Okay, campers, rise and shine, and don't forget your booties 'cause it's cooooold out there today.
D.J. #2: It's coooold out there every day. What is this, Miami Beach?
D.J. #1: Not hardly. And you know, you can expect hazardous travel later today with that, you know, that, uh, that blizzard thing.
D.J. #2: [mockingly] That blizzard - thing. That blizzard - thing. Oh, well, here's the report! The National Weather Service is calling for a "big blizzard thing!"
D.J. #1: Yessss, they are. But you know, there's another reason why today is especially exciting.
D.J. #2: Especially cold!
D.J. #1: Especially cold, okay, but the big question on everybody's lips...
D.J. #2: - On their chapped lips...
D.J. #1: - On their chapped lips, right: Do ya think Phil is gonna come out and see his shadow?
D.J. #2: Punxsutawney Phil!
D.J. #1: That's right, woodchuck-chuckers - it's...
D.J. #1, D.J. #2: [in unison] GROUNDHOG DAY!
The quote above comes from the 1993 Bill Murray film, "Groundhog Day", which is seemingly very relevant today as it happens to be the day that Punxsutawney Phil came out and predicted that Spring will be coming early- which will be welcome news for most of the nation which has been suffering through a wicked winter topped off by the most recent storm that has been dubbed the "Icepocalypse" in some quarters.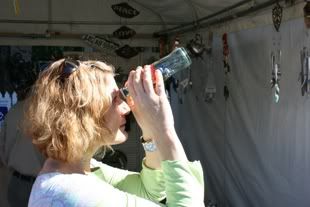 While much of the nation suffers with brutal cold, blizzard conditions, snow and ice, here in Key West- we have had the good fortune of some of the most perfect weather of the year. Sunny and warm every day with light breezes and low humidity, it has been so wonderful, I almost feel a sense of guilt when I see what my friends and family in the north are dealing with.
This past weekend has been no exception as Kathy & I spent much of the weekend outdoors enjoying our good fortune. On Saturday, we lightened our load by hosting a large yard sale that had hundreds of shoppers browsing through our stuff and we managed to both get rid of a lot of excess items and make a few dollars in the process.
Nancy & friend
Unfortunately, we spent most of our earnings the next day when we attended the annual Craft Show that is held each year along Whitehead Street. For years it seemed as if the craft show featured the exact same artists, exhibiting in the exact same spaces and in truth it had gotten a bit stale. For the last couple of years, there has been a change and there has been an influx of exciting and talented and new to Key West artists joining the show and this year it was terrific. Kudos to the organizers for helping revitalize what is a great art show.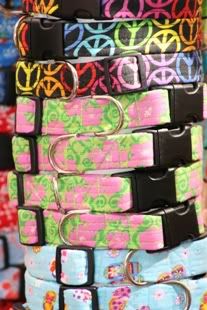 Elizabeth & Kathy
Kathy & I strolled the booths for much of the afternoon, visiting with friends, checking out art and even making a few purchases to start gathering more stuff to replace what we'd sold the previous day. It was just a splendid afternoon at the Craft Show. Afterwards we headed over to the Clinton Square Market and made a rare visit to the tourist mecca. We wanted to see the incredible new toy store that is located upstairs of the market.
The Key West Toy Factory is an amazing toy store, with incredible displays and facades that seem more like something from Disneyworld than anything in Key West. It is a wonderful place with thousands of interesting toys and seems like it would be heaven for kids. They even have a resident Kinkajou named Izzy that is adorable and very friendly.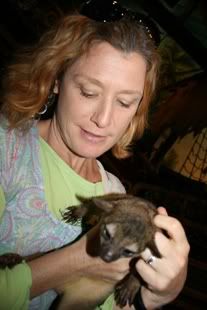 Kathy & Izzy
We next headed over to another new Key West addition for a late lunch, Amigos Tortilla Bar- home of the square taco. The new Mexican place is right in the heart of downtown, diagonally across the street from Sloppy Joe's bar. The food was good and they even offer a local discount, which is cool.
Amigos
On Monday evening, we attended the weekly Friends of the Library lecture series at the Studios of Key West. This week's lecture was by one of my favorite authors, Lee Smith. Lee has been here in the past on a few occasions for both the lecture series and as part of the Key West Literary Seminar. She read from her new short story collection including a story that is set at Salute restaurant here in Key West.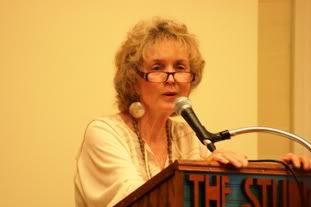 Lee Smith