Wyland Wall
October 24, 2012
Michael & Wyland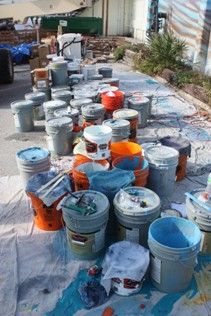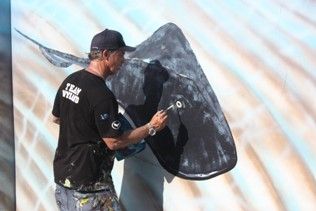 Wyland Wall
Goombay Weekend and Wyland was here to redo his Key West Whaling Wall for the third time. As usual there is always more stuff going on than anyone could possibly attend, but I gave it the old fighting try. It was a weekend that I was flying solo because Kathy was still up in New Jersey visiting a friend, so I had to make do on my own once again, which is really not so hard in this town packed with friends seemingly everywhere.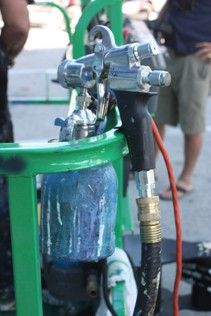 Renowned marine artist Wyland, was in town once again to paint for the third time the old Waterfront Market building. The previous mural was in desperate need of repair or replacement as it had faded and cracked since being last painted in 2003. It was somewhat bittersweet to go down and watch Wyland working on this wall as I had been instrumental in both previous visits to paint the wall, back in 1993 and 2003.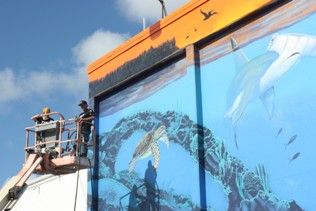 I was working at Reef Relief and we organized both of the previous mural paintings, the first only on one side of the building and the second which wrapped around the front of what was then a thriving Waterfront Market. It was a happy time as Reef Relief and the Waterfront were both enjoying massive success and thousands of people turned out to watch the wall being painted in what in both cases was something of a party atmosphere. We even had live bands playing during the last painting and it was a huge and fun success.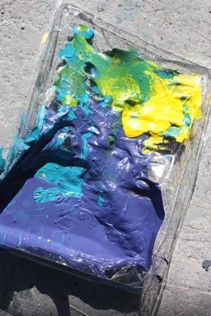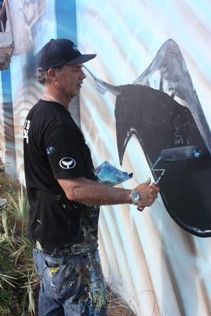 It was a little sad to see a few dozen people standing around a lonely Wyland and crew as he painted the still empty building as the Waterfront market is long gone and Reef Relief, a sad shell of its former self was nowhere to be seen. Wyland was as buoyant as ever. Whether you are a fan of his art or not, there is no question he is a marketing phenomena and he is also truly an enjoyable, nice and charismatic guy to be around.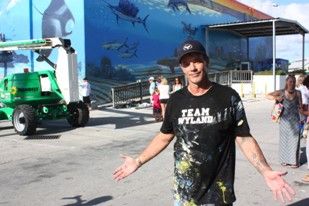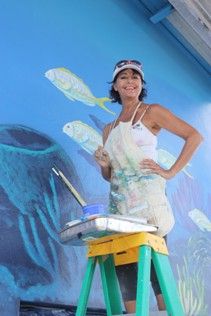 Sherry
Having spent a good amount of time with him, diving, going up to the Dolphin Research Center to paint with Dolphins, helping out with two previous murals and even going out on the town a time or two, I can bear witness to how great he is with people, fans, kids, everyone is drawn to him and he is as nice and patient as can be with them all. He can also paint a marine wildlife mural like nobody's business.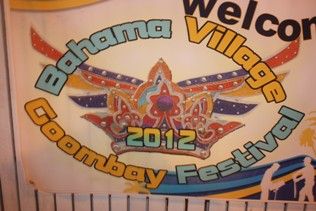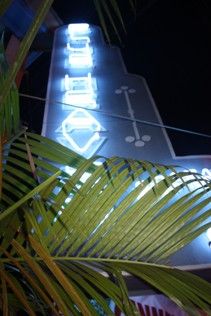 It is crazy to watch the speed and skill with which he creates his huge murals, it is almost like second nature to him now and pretty interesting to watch. He was kind enough to let other local artists, including my friend Sherry Sweet-T do some of the detail work on the smaller fishes in the mural and he even let them sign the wall- which was very cool of him. It was also cool to see my friend and Key West Citizen photographer Rob O'Neal on the job, still recovering from his massive scooter accident, Rob is still on crutches, but seeing him out working was really cool.
Sherry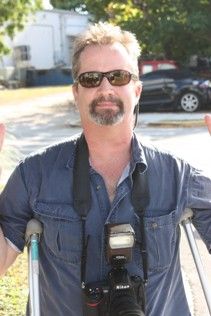 Rob
After watching Wyland paint during the day, it was off to Goombay for the first night of one of my favorite festivals of the year. Goombay was mostly the same, though I must admit the amount and quality of food and other vendors has dropped off somewhat. It was still the place to see and be seen as much of Key West turns out to take in the Caribbean themed festival.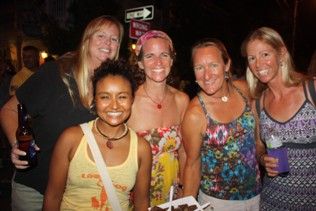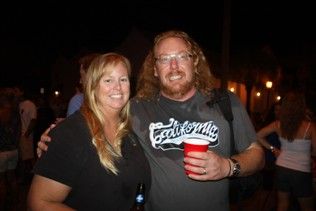 Michael & Kathy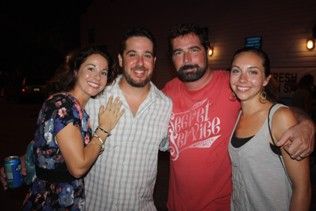 Once again Friday night found a huge throng of friends hanging out on the corner in front of Blue Heaven, just checking out the scene, catching up with friends old and new and basically enjoying the evening- which was warm and nice- a pretty much perfect night for the festival.
Sherry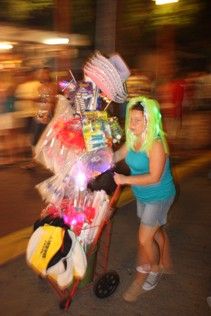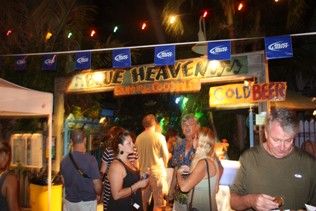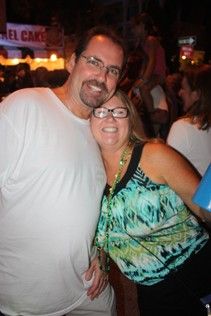 Jim & Fiona
http://www.wyland.com/