Back to Work
September 13, 2006
In the just over a week since returning from the shows in Tampa & West Palm things have been exceedingly busy and hectic as both Kathy & I have returned to full-time employment and we have been busy settling back into our home and some semblance of a routine. Of course that all changes tomorrow as we are heading off again, this time to Austin, Texas where we will be attending the massive Austin City Limits Music Festival.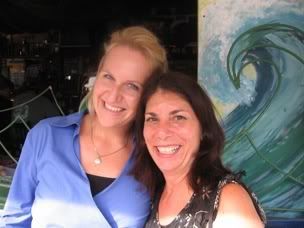 Gae & Janine @ the Green Parrot
After being constantly on the road, getting readjusted to Island life has been somewhat tough to get used to, especially since we basically had no time to get organized before being thrown back into the workforce. Not that we are complaining mind you. We are happy to get back into a somewhat normal lifestyle. Kathy is back at the Preschool and with another exciting group of 3 year olds. Spending the summer in a car with me has prepared her well. After 15 years at Reef Relief, 11 as a staff member, it is a strange feeling to have a new job. But I am excited to be working for another amazing and interesting group of people at the RPM Nautical Foundation.
View from my desk
RPM is a non-profit marine archeological organization that uses state of the art technology to survey, document, excavate and recover artifacts. Headquartered in Key West, RPM works year round in the Caribbean and Mediterranean and has worked in a wide variety of locales including Turkey, Malta, Portugal, Spain, Cyprus, Greece, Morocco, India and Japan. My job will mostly be the same sort of office management and organization that I did at Reef Relief.
RPM Office
Besides work we have been seeing many of our Key West friends and getting our house back organized, though that has been slower than expected. Thankfully Colin did a great job taking care of the cats and house, which mitigated our work, but we are taking care of some overdue home maintenance before getting too settled. Colin will be called back into service this week as we are off to Austin tomorrow with our friends Nadene Grossman & Melissa Lawson for the big ACL Fest.
RPM Nautical
Watch ACL Mainstage Live Here