Lobsterfest etc...
August 14, 2007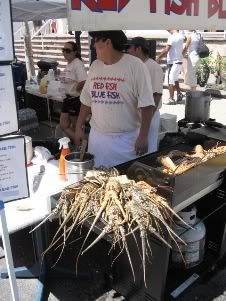 For the first time in a while, Kathy & I finally spent a weekend together in Key West, since we are off to Colorado this week; we figured that we would take advantage of a little Key West ambiance by attending the annual Lobsterfest on Saturday and following that up on Sunday with a day on the water. We certainly do not get out on the water near enough for people who live on an island, but we do it up right when we do go. Kathy had actually been out twice while I was gone last week, once on the Fury and another trip with friends to Marvin Key or Snipes Point or some such wonderful place.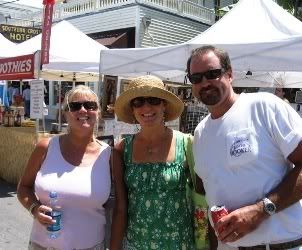 Fiona, Kathy & Jim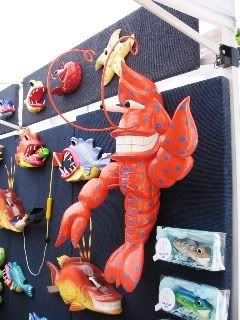 Lobsterfest is held each summer as one of the many summer fests on Duval Street. This one, as the name implies, celebrates the beginning of the commercial lobster season here in the Keys. They block off Duval Street and have a street fair with all sorts of food, vendors and entertainment. The highlight is of course the delicious crustacean, the Florida Spiny Lobster which is prepared in a wide variety of manners by many of the finest restaurants in Key West. Kathy enjoyed some Curry Lobster from Bagatelle while I had a more traditional grilled tail from Rick's Bar. It was blazing hot, but a huge crowd, drawn by the tasty Lobsters crowded the street and we watched as much as the performance by Howard Livingston and the Milemarker 24 band as we could stand in the heat. Howard is a great performer and really captures the spirit of this place- if you ever get a chance to check him out – you should.
Howard Livingston
On Sunday- we joined Capt. Don & my co-worker Todd along with a few others on a shake-down cruise of the RPM vessel "Robo". We have recently been doing a lot of maintenance and upgrades to the boat and we thought we'd tag along aboard the luxurious 60 ft. Hatteras as the sea trials tested out the new systems. The boat is scheduled to be headed over to the Bahamas at some point soon and we wanted to make sure everything is in working order.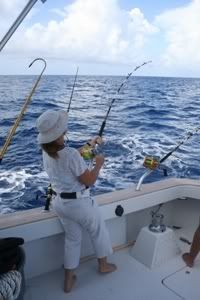 The Capt. figured that why we were off-shore testing the boat, we might as well get in a little deep-sea fishing, so we did a bit of trolling with mixed results. Neither, Kathy or I are much when it comes to fishing, but Kathy managed to land one of the Dolphins (Mahi-Mahi) that we got which was cool. Jason & Todd caught the majority of the fish, nothing major, but enough to provide a delicious dolphin dinner for us. Todd hooked a barracuda which he had to wrangle with on deck to remove the hook, without the benefit of gloves I might add. He did a masterful job. It was a beautiful morning on the water and the boat is amazingly comfortable. You can check out the specs using the link below.
Capt. Don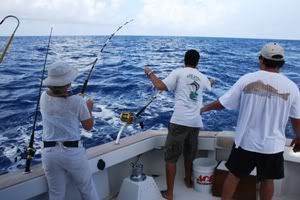 In other RPM news, we got word this morning that the crew of the Hercules, currently working in Albania, discovered a great historical shipwreck. The crew will be working in Albania a little longer before heading back to Sicily to work on potential shipwreck sites there.
Kathy & I are preparing to head out to Colorado to attend the Folks Fest once again. Kathy's friend Kate will be flying in from Santa Cruz to join us and we are pretty excited about it.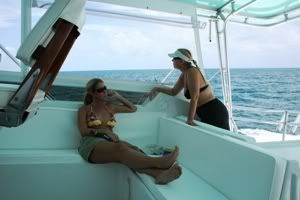 Shannon & Lisa
http://milemarker24.com/
http://www.rpmnautical.org/resources.robo-page.htm