Michigan 400
August 7, 2007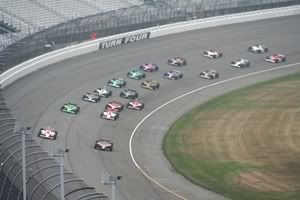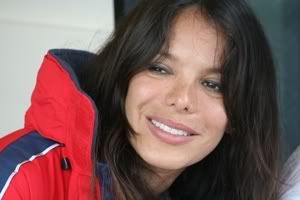 Milka Duno

It was a late night of driving through some wicked rain as I headed from Indianapolis up I-69 towards the Michigan International Speedway. The Speedway, located in the Irish Hills area near a small town called Brooklyn, was the site of the Indy Racing League's, Michigan 400. The same Indy Cars that competed in the Indy 500 were poised to compete for 400 action packed miles on the high banked track.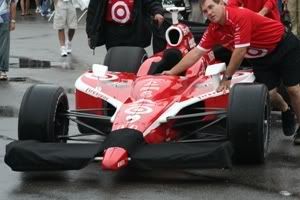 Pit Lane
Marco Andretti Garage
First we had to wait for the rain to stop. There was a five hour rain delay as heavy rain poured down on the track delaying the action till almost 5 PM. The rain actually helped me out, as I was pressing to make it on time, and suddenly, I had 5 hours to walk around and make use of my pit pass. The delay offered me to take in the meeting in the Downforce tent which featured appearances by drivers Scott Dixon and Dan Wheldon as well as a presentation by the spotters for Tony Kannan and Danica Patrick and a pep talk from legendary lead singer of the band Kiss, Gene Simmons. It made the delay well worth the waiting, especially since they eventually did get the track dry.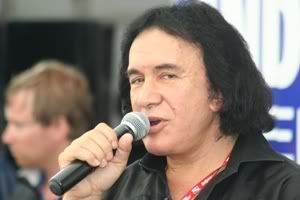 Gene Simmons
I also had time to meander about the garage area, meeting a few drivers and being able to hang out for an extended time with my buddy Jason, who works for Marco Andretti. Once the race actually started, it was pretty amazing. Dario Franchitti dominated the first portion until a terrible pit stop dropped him to last place. In the space of 6 laps, he had weaved, passed and darted back into second place in one of the most amazing displays of driving talent that I have ever witnessed.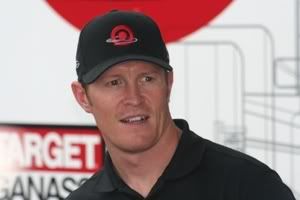 Scott Dixon
And the thrills Dario would provide were just getting started. Battling for the lead with Dan Wheldon down the back stretch their cars came together and Franchitti's car soared into a series of flips and tumbles down the back stretch before it came to land on top of Scott Dixon's car. In all seven cars were involved in the spectacular accident (which you can watch via the link below). Incredibly, Dario emerged from the car, once it was righted, unscathed. He is very fortunate.
Pit stop Danica & Marco
Tony Kanaan ended up winning, beating Marco by a narrow margin. Poor Danica Patrick had her best shot so far of winning a race doomed by a flat tire in the late going. She ended up in 7th place. It was a great race. Afterwards, I drove over to the Detroit airport where I caught an early Monday morning flight back to the Keys.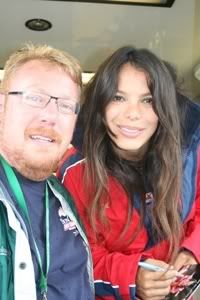 Michael & Milka
http://www.indycar.com/multimedia/videos/player.php?v=738