Madison
August 4, 2007
Madison

Scheduling conflicts and this crazy thing called work had Kathy traveling to the beautiful city of Madison, Wisconsin to visit our good friend Janine, while I remained in Key West. Janine recently moved to Madison, where she has settled quickly, completing all the tests necessary to become a full-fledged architect, getting a spiffy new job and buying a new house ( as well as getting a new cat). The fact that she has family in the area has only made the transition easier, and while we miss her here in Key West, it seems clear that Madison is agreeing with her.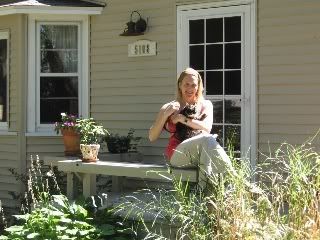 Janine at her new house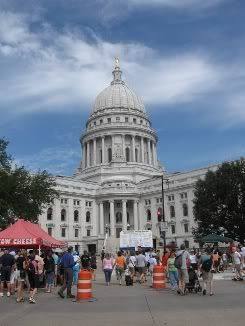 Wisconsin State Capital

At the Farmer's Market

Madison is the home of the University of Wisconsin and is a thriving youthful metropolis with the downtown sitting in a beautiful setting between lakes Mendota and Monona. The state capital of Wisconsin sits on a hill at the center of town and is surrounded by shady trees, lawns and park benches. Kathy arrived while Janine was still at work and had the chance to ride around town on Janine's bike while waiting for her. It gave her a chance to get out and see the town.

Once Janine arrived, they were able to spend a weekend doing what they do best- having fun. Whether visiting the famous Farmer's Market which is held on the Capital Square each Saturday from May to October or going to see the beautiful Olbrich Botanical Gardens or simply going out for a few drinks, Kathy & Janine know how to have a good time. The Thai Garden at Olbrich is especially impressive; the only one like it in the US, the pavilion was a gift from the Thai people. Surrounded by plants native to Thailand and tranquil water, the pavilion is covered in beautiful gold leaf and is a highlight of the gardens.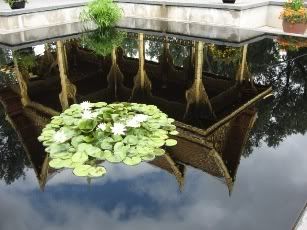 Kathy had a great time in Madison, and though I missed it this time, I plan to tag along on the next visit. Not that I lack for travel opportunities, this week I am headed on a whirlwind tour of the Midwest myself. I plan to fly to Louisville, see a Counting Crows show there then drive to Indianapolis for another show as well as a high school reunion and then drive to Michigan for an Indy Car race.
Janine's family cookout