Fantasy Fest Parade (Part II)
October 30, 2007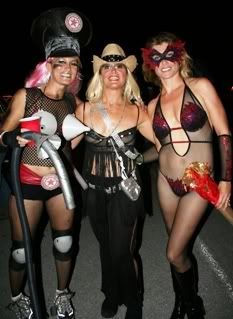 Cricket, Kathy & Jen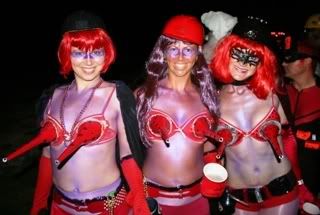 Fantasy Fest Parade (Part II)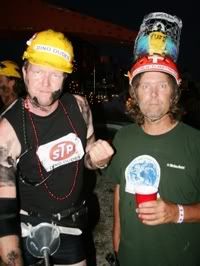 Steve & Rick
The parade lasted a long, long time this year, we did not finish marching till almost 11:30 PM, there seemed to be a lot of stopping and creeping along. Not that it mattered much really because everyone seemed to be having a great time. Well almost everyone, there was one lunatic who leaped over the barricades and tried to attack some members of our group. Who knows why, but thankfully there were two highway patrolmen stationed along the route, who quickly corralled the guy and carted him off in cuffs.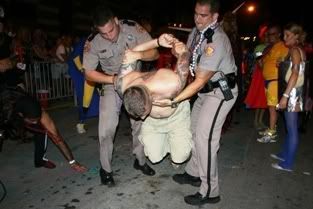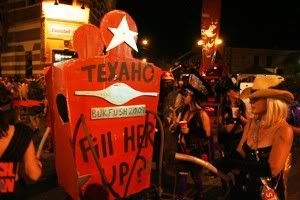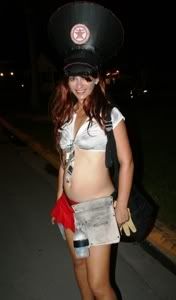 The parade itself is mostly a blur, there are two points during which we stop by design, one is the media area in front of the LaConcha hotel which is light up for photos and for the television cameras to capture the action. The second area is in front of the judging stand just past Truman Street. As cool as our float looked, somehow we must not have made an impression on the judges because for the first time in years, we were shut out of the awards.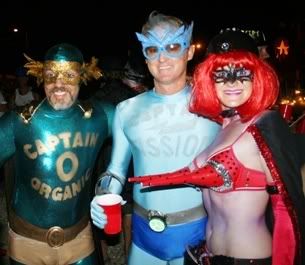 Dave, Hutch & Eliza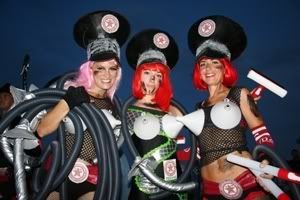 I am at a loss as to why, perhaps our float theme did not fit into the overall theme very well or maybe there was some bias against the perceived political nature of our float. It was easily one of the 10 best floats and in my opinion, way better than the Grand Prize winner..but it matters not. We had an awesome time and we will be back next year to try and reclaim the top honor.
The post parade street party was as great as ever and afterwards we headed over to La Te Da where members of our group danced late into the evening. Thanks to everyone who worked on the float and made for another fantastic Fantasy Fest.