Flat Stanley
March 6, 2009
Flat Stanley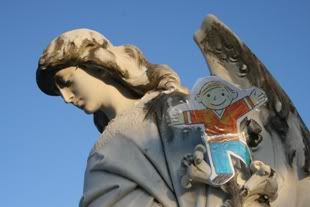 For the past few weeks, we have had a very special visitor all the way from Annapolis, Maryland. His name is Flat Stanley. Flat Stanley was sent by our friend Dylan Tobin with an assignment to meet us and to go with us to explore the place where we live, before returning to Dylan's school to report on all the things that he saw while visiting the Florida Keys.
Kathy & I had a great time taking Flat Stanley around town as well as up the Keys to join us in all sorts of fun things that we did. In addition to preparing a nice photo album to document his trip, Kathy & I decided to post a blog about Flat Stanley's visit that Dylan, his teachers, and his classmates and their families could see.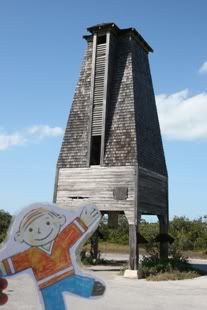 The Bat Tower
We did all sorts of fun things with Flat Stanley. Kathy took him along with the class that she teaches at the Preschool on a field trip where he got to play with many of the students in her class. Later we all went to an art show at an Art Gallery called the Stone Soup Gallery. All the art being displayed was made by prisoners who are in jail in hopes that by making artwork, they will stop doing the bad things that sent them to jail.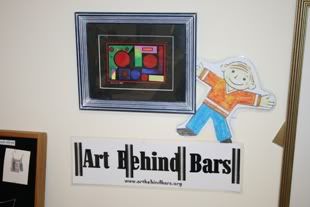 We also visited the Key West Cemetery, where all the coffins are above ground because Key West is an island that is right at sea level. There are many beautiful statues there. They also took me out to a birthday party for their friend Jasmine at a place called the Conch Republic Seafood Company. Key West is sometimes called the Conch Republic and the people who live here are called "Conchs" which is pronounced Konks. A Conch is a type of snail that lives in the ocean.
Me with Jasmine & Kathy
Key West Cemetery
There is so much to do in Key West, which in the Southernmost City in the continental United States. It is very far south and is almost always warm and sunny. It never snows here. Key West is an island and there is only one road that goes over many bridges on its way here. One day, we drove up the road to see the beautiful beach at Bahia Honda State Park and to visit the National Key Deer Wildlife Refuge where we saw Alligators and Key Deer.
Me with Alligator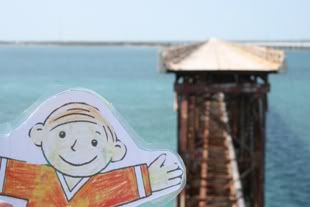 Key West is a nice place with many nice people who have a motto of "One Human Family" which means that every person is the same and we should all get along. People in Key West try to live following that rule. Dylan and his family used to live here and the people in Key West miss them very much. Dylan's family runs a business that takes people out sailing on the Chesapeake Bay in Annapolis. There is a link below if you want to go sailing.
Geiger Key Marina
Flat Stanley had a great time, but has gone back to report to Dylan and his class. Hopefully he can come back soon and bring Dylan and his family with him.
Chesapeake Sailing Tours