Wiener Walk 2012
January 3, 2012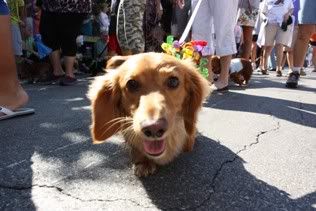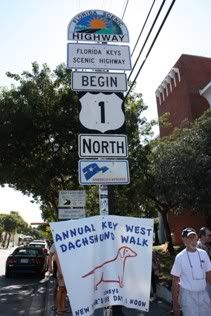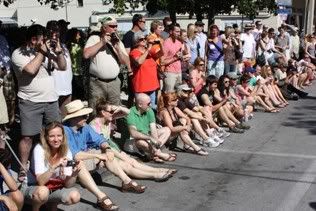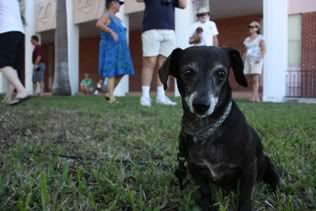 Wiener Walk 2012
On New Year's Eve Day for the past six years, downtown Key West has been turned in to a Wiener Wonderland when the annual Dachshund Walk has been held. Founded and organized by my friends Ruth Reiter & her husband Dan, the event has grown from a quirky little gathering of dachshund owners into a huge frenzied event that attracts hundreds of participants and countless more people who line the streets to watch the festivities.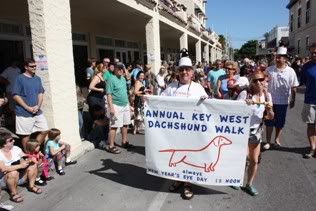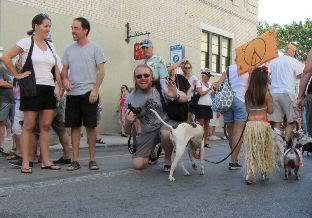 Taking Pix * Photo by Michael Ruetz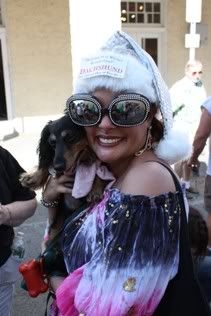 The event has become a staple of the New Years' celebration in Key West and has become a nationwide media event as well, covered by CNN, the local Miami TV stations, the AP and more. This year even the Huffington Post got in to the coverage and I am proud to say used my photographs to illustrate their story. You can check it out on the link below.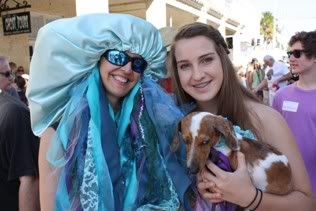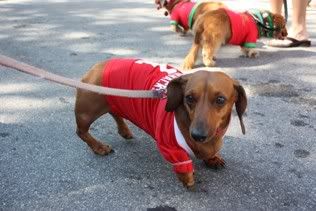 I have been asked to photograph the event each year since its inception and have watched the impressive growth and tremendous popularity explosion first hand. I must say that it has been a real joy to witness. It is a rare thing that an event is held that is just for the sheer joy of it, no fundraiser, no cause to bring attention to and not trying to sell anything to anyone. It is not that charity events are not great, it's just increasingly rare to find a Key West event that does not have a sponsor or a cause and it is somewhat refreshing.
This event is all about fun and there is something about the proud owners of dachshunds that is different than most dog owners. They seem to reveal in their pets with a special joy that is evident in the way they get so excited about events like this, which are held throughout the nation. They have websites, hold meetings and obviously travel great distances to participate in events that celebrate their wiener dogs, if the woman I met who drove all the way from Maine just to participate is any indication.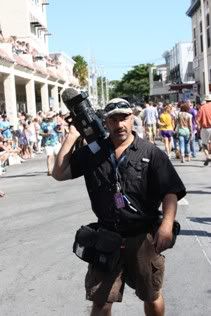 Steve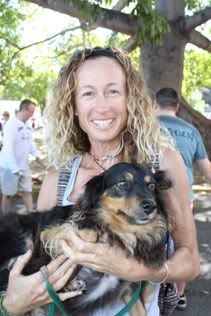 Robyn
Special wiener dog t-shirts and memorabilia were in full display as were the many varied and fun costumes that many people dressed their dachshunds up in. My friend Esme had the most inventive costume that I saw and it had a local feel as well as her dog was dressed as a local iguana. My friends Clare & Bert also went with local interest costumes for their pair of dachshunds, dressing them up as white flies, a common local pest.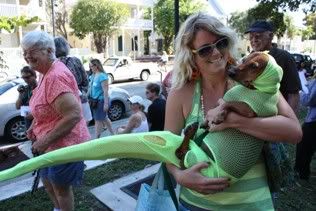 Esme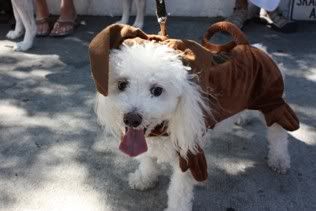 Master of Disguise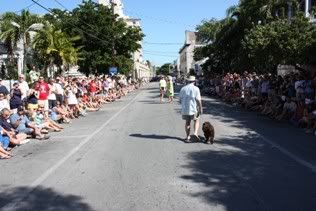 Decked out to the max or simply going au natural the dachshunds of all shapes and sizes paraded along the new route which was basically up and down Fleming Street which was blocked off by the police this year. This seemed to be a much better situation as it avoided what had become a mess of congestion along Duval Street in recent years and enabled more space for those watching to get good spots and actually interact with the hounds.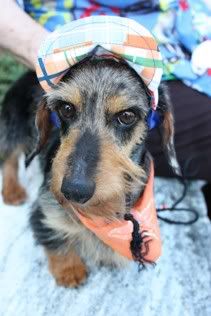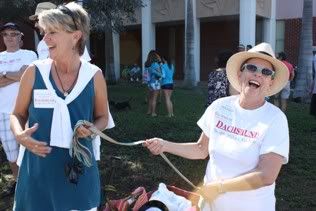 Ruth hands over the leash.
Huffington Post article