Boulder
August 12, 2006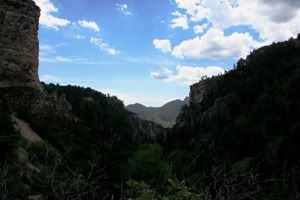 Williams Canyon
It's hard to believe how quickly time seems to be slipping by, our trip is in the home stretch and after a couple of relaxing days in Manitou Springs, and we are back on the road again. This time with a specific purpose, at least so we thought.
We spent another great day yesterday with Chris, Kari & the kids. In the morning, Kathy & I took Sophie & James and walked down to the local arcade. This huge, throwback arcade had all the classic as well as new video games as well as such cool games as skeeball and air hockey. James and Sophie played enough to get tickets for a couple of prizes before we headed home.
Boston Red Sox Fans!
Our next excursion was to go hiking at the amazingly beautiful Williams Canyon. Sadly Kari had a lunch engagement and could not join us for this fun hike. At the trailhead we were greeted by large "No Trespassing" signs which Chris assured us were placed simply to relieve the owners of any liability should anything unforeseen occur, and the trail was obviously well used, proven by the fact that we met hikers coming down who warned us to beware of the rattlesnake on the trail ahead. Thankfully we saw no sign of the snake as we hiked the canyon uphill for a mile or so to a beautiful little spring feed waterfall which offered pools of water for the kids to play in and a spectacular vista of the canyon.
We had to be back in time to make the drive from the Springs to Boulder and we figured we had left ourselves plenty of time to make it to the historic Chautauqua Auditorium to see the Nanci Griffith concert we had tickets to see. Traffic turned out to be a nightmare, Friday evening commute and all and we barely made it. Not that it made much difference because as soon as we had settled in a mysterious power outage darkened the entire place and instead of the show, we joined a few thousand people in waiting for the lights to come on. They never did and the show was postponed until Sunday. That actually is the perfect date for us, because we already have tickets to another show tonight, Robert Earl Keen, and we may not have been able to return at any other date.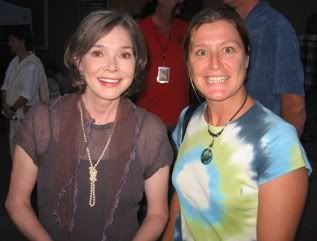 Nanci Griffith & Kathy
Plus it worked out well because, while we were all waiting for the lights to come on, Nanci came out and mingled with fans, allowing us to get the photo below. She was so nice, apologetic and thankful for our patience. Actually the wait itself was pretty fun; the Chautauqua place is really beautiful. Built in 1898, it is a gorgeous old wooden auditorium with supposedly wonderful acoustics; I guess we will find out Sunday.
Oh yeah, the other night when we saw the bear, i tried to get a picture but the flash did not reach far enough and all i got was this shot of his eyes.
http://Chautauqua Auditorium
Nanci Griffith Website