The Island of Misfit Toys
The Island of Misfit Toys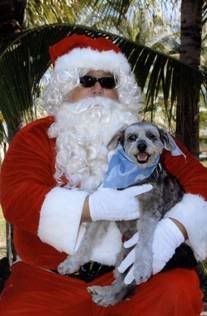 India & Santa
Key West Bight
December 18, 2008
Council of Arts Holiday Party
Every year at Christmas I used to watch the stop-action animated holiday classic Rudolph the Red-Nosed Reindeer, being a red-headed kid, I identified with poor Rudolph's plight but my favorite part was when Rudolph, Hermey and Yukon Cornelius visited the Island of Misfit Toys. The island sanctuary that was home to defective and unwanted toys seemed far more interesting than the bigoted and boring "normal" world outside of the island. In fact thinking about it now, it seems logical that I would eventually be drawn to Key West where the likes of BirdFish, Misfit Dolly, King Moonracer and Spotted Elephant would be welcomed without a second thought.
Spotted Elephant??
This island of misfits has been busy getting into the holiday spirit as holiday events continue to dominate the schedule. This past week we have attended a number of traditional Key West events including the Lighted Boat Parade, the SPCA's Holiday Pet Expo and the Christmas Party for the Florida Keys Council of the Arts. We also managed to find time to slip in a visit to the monthly Friends of the Library book sale.
Book Sale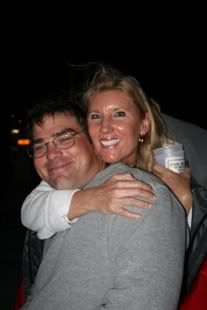 Todd & Lisa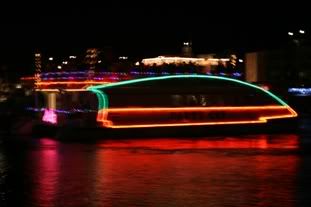 The Lighted Boat parade is just what it sounds like, boats of all shapes and sizes go all out in decorating for the holidays then line up and parade into the Key West bight, passing the judges stand at the Schooner Wharf Bar. We always get all excited about attending before remembering upon arrival that it can get sorta boring as the boats often take a long time to navigate the bight. Thankfully the weather was good, it was a beautiful full moon and we always see friends among the large crowd gathered for the parade. We actually had more fun at a pre-parade get together at the home of our friends Eric & Betsy. The time we spent there was hands down more fun than the parade itself.
Rosie & Mark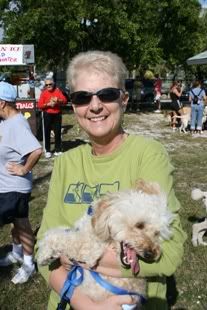 Joanie
Carrie & Brandy
The Holiday Pet Expo is great fun as well, this year was by far the most crowded as the weather was perfect and literally hundreds of dogs and their owners gathered to see Santa and play at the Dog Park. India had a great time, but some of our cats were somewhat jealous and demanded blog representation.
Buddy
Dia