High Season
February 23, 2011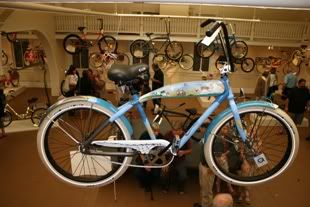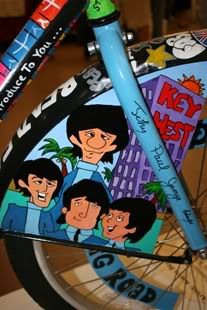 Keys Kids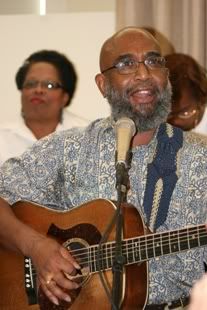 Josh White, Jr.
High Season
There are some times when the island seems even more overwhelmed than usual during what is known as high season, which is basically Christmas through April and this week for some reason has certainly felt that way. It is in part due to the seemingly endless stream of traffic heading on to the island and also because there seem to be so many events aimed at those people that we are once again faced with a multitude of entertainment options to keep us occupied.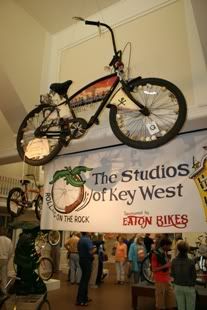 TSKW
Kathy & I took full advantage this week, starting with the Walk on White event, which was hi-lighted by the showing at The Studios of Key West of the complete collection of Art Bikes which have been part of a "Rolling on the Rock" fundraising event since the bikes debuted during the Fantasy Fest parade. Since then, the more than 40 bicycles that have been decorated by local artists which have have been on display at various businesses around the island.
Ruth & Rosi
The Walk on White event marked the first time that they had been all gathered together in anticipation of the huge auction that will be held next week to raise funds for the studios. This event, the brainchild of Studios Director Jay Scott has already been a tremendous success and the bikes are flat out cool. They are as interesting and diverse as the artists that created them and it was a real treat to see them all together.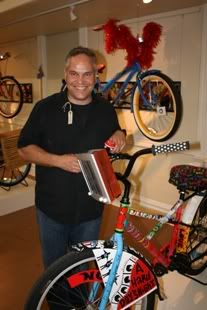 Jay Scott
Friday night was yet another of Key West's art strolls, this time it was what is known as the "Full Moon Howl" on upper Duval Street. The gallery walk featured the opening of a new collection of work from our friend Will Fernandez at the Frangipani Gallery. It was a great opening and an excellent representation from Will, who is a talented artist.
Will & Marci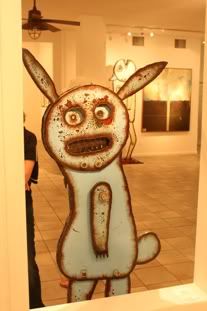 We continued our evening at our favorite Key West watering hole, The Porch, where we met our friends Howard & Najada and checked out the art exhibit that was on display for the weekend there. The exhibit featured four artists from Chicago whose work was displayed throughout the bar and even hanging on the porch itself.
Nan & Mark
We were back at the Studios of Key West over the weekend for a pair of shows in their wonderful Old Town/New Folk concert series. The first was on Saturday night and featured a solo performance by folk/blues, jazz, pop artist Josh White Jr. The son of the legendary performer Josh White played a wonderful gig that featured him covering a wide variety of musical styles that was thoroughly enjoyable. His infectious grin and constant inclusion of the audience in sing-a-longs was great.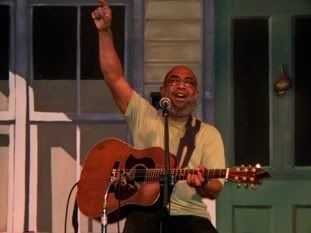 Josh White, Jr.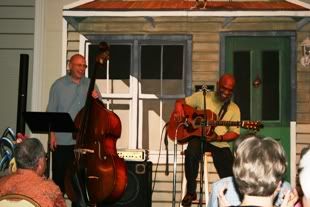 It was only the beginning of a fantastic musical weekend at the Studios as they also featured a second Old Town/ New Folk special performance on Sunday afternoon. This concert was a multifaith Folk and Gospel celebration that included Josh White Jr., Noel Paul Stookey (the legendary "Paul" of Peter, Paul & Mary) and his wife ,Reverend Elizabeth Stookey and the local group, the Voices of Praise Choir.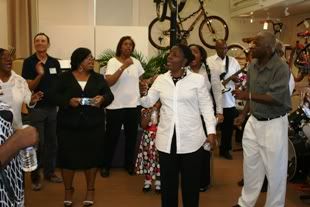 Noel Paul Stooky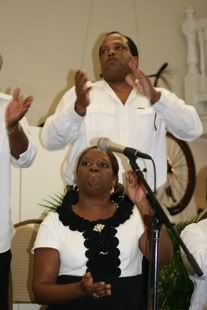 This was a fantastic and upbeat show was a blast. The Gospel choir was especially thrilling to hear and the three performers were all fantastic. Whether playing Gospel standards like "This Little Light of Mine" or Folk classics like "Blowing in the Wind" the show was full of incredible moments.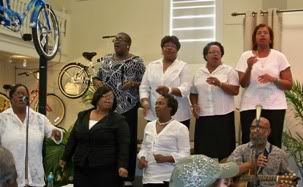 After the show ended Sunday afternoon, I rushed over to meet Kathy at Key West High where we took in the latest effort by Keys Kids, "You're A Good Man Charlie Brown". This production featured a relatively small cast of mostly older kids, junior high and high school aged. It was a lot of fun, as most Keys Kids shows are, and the cast featured a couple of stand-outs playing the well-known Peanuts characters. It was a great way to spend a Sunday afternoon