Indianapolis 500
May 30, 2009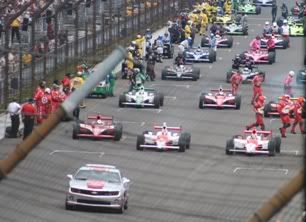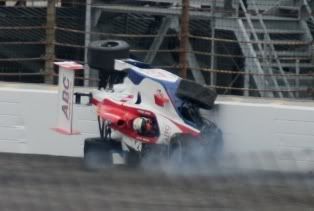 Vitor Meira
Indianapolis 500
Race day dawned with a clear and warm forecast, which is always a wonderful thing. Going to the race knowing that there will be no rain delays always makes the day much more enjoyable. Since the start time has been moved back to 1:00 PM for the last few years, there is no longer any need to get up at the crack of dawn and rush out to the track to avoid traffic. In fact, I had no problems at all making it to my preferred parking location just south of 30th Street.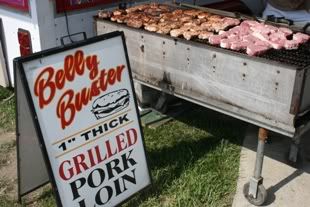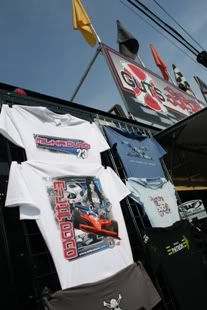 What was different this year is the location of my seats. I had gotten an opportunity to sit in Stand E, which is in the first turn, from a former Cathedral High classmate, Mary Rein Hagy. So I sold my usual spot high in turn 3 for the covered comfort of stand E and a chance to watch the cars storm down into the first turn at the start. The hot, humid exposure to direct sun was gone thanks to being in comfy, covered seats that looked right down the main straight, and all through turns 1 & 2. It turned out to be an action packed section.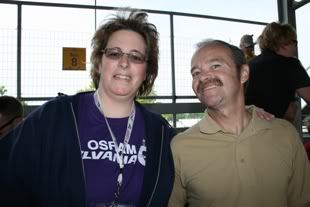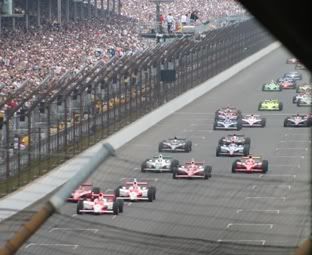 The Start
Joining me was a member of the Brugge brewing team, John Kopta, who was seeing his first Indy 500, driving over from the Brugge brewery in Terre Haute for the weekend. It wasn't a bad place to see his first race as action started right away in turn one on the first lap. Sadly it was really bad news for my friend Jason and all his Andretti Green team as Mario Moraes pushed Marco Andretti up into the first turn wall on the first green lap. While we had an excellent view of the incident, I felt somewhat sick for my friend, knowing how much effort and emphasis they put in to this race.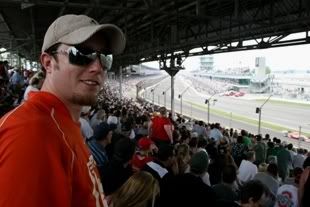 John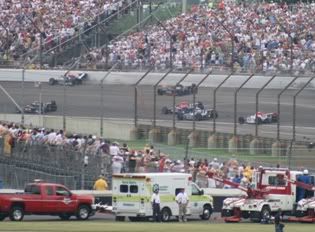 Mario Moraes crash
The action in turn one was pretty good, in fact with the hot conditions, just about every pass in the race came on a re-start and we had a perfect view of every one. We could also see all the action in the pits, which is where even more decisive moments occurred as each of the Target Chip Ganassi team had issues with poor pit stops that may have cost them the win.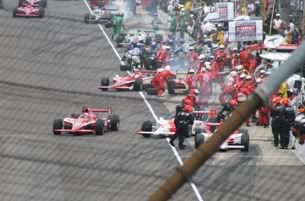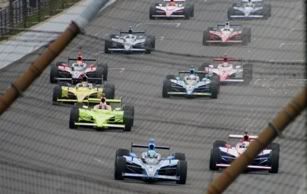 Also having problems on pit row was Vitor Meira whose car burst into spectacular flames while pitting, yet managed to drive away as soon as they were extinguished. Perhaps he should have stayed in, as he was involved in a frightening accident in Turn 1 & 2 as Rafael Matos collided with him and he rode along the wall. I managed to capture a decent photo of the wreck, which sadly lead to a couple of broken vertebrae in Vitor's back which will sideline him for the rest of the season.
Meira crash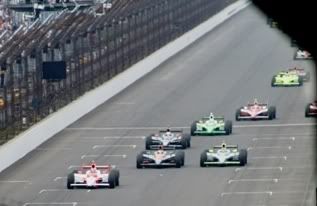 Final re-start
Helio Casroneves completed a storybook finish to his tax trial acquittal with a fairly easy victory in the Indy 500. Dan Wheldon finished 2nd with Danica Patrick in 3rd. Will Power came home in 5th place, meaning that my streak of Calcutta winnings continues, barely. And Conquest racing/ Brugge sponsored Alex Tagliani moved up from 33rd to finish 11th, capturing rookie of the year honors in the process. All in all it was a great race, a great weekend and I am already gearing up for next year.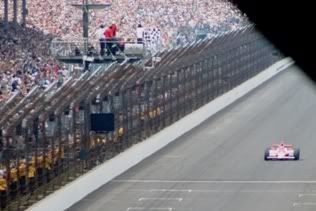 Helio takes Checkered Flags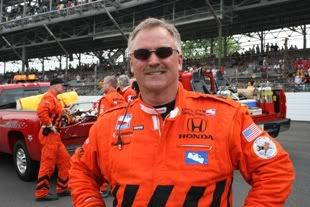 Bob