The Greatest Spectacle in Racing
May 27, 2013
Tony Kannan wins!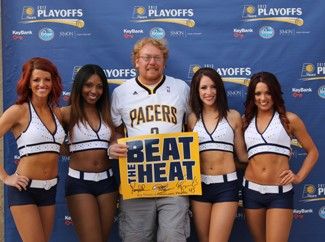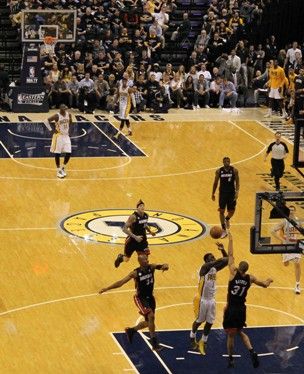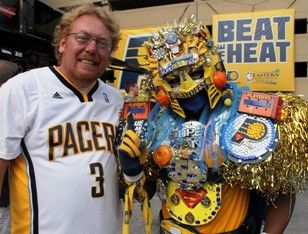 The Greatest Spectacle in Racing
The 97
th
running of the Indianapolis 500 was one for the record books. First off it was my 41
st
consecutive race, which is somewhat astounding – mostly because I don't feel that old, but since my childhood, I have made the annual pilgrimage to the historic facility and seen my fair share of thrills, chills, wonderful moments of skill and sportsmanship and a fair share of tragedy as well. It is virtually impossible to explain to many friends who think I am crazy to attend even a single race, but for me it is the highlight of my year.
Chris & Will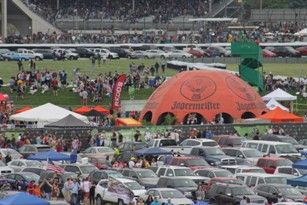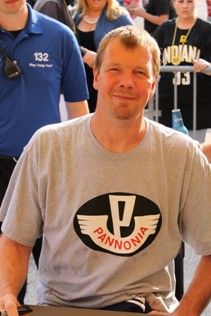 Rik Smits
This year I invited my friend Dakota, my nephew Christopher and my sister Michele who was attending her first race in many years. Kathy was back in Key West, declaring herself an every other year attendee. The weather was fair, actually a little on the chilly side- a welcome change from the oppressive heat of last year.
Most importantly, there was no rain until after the race concluded, which was just about perfect considering Dakota and I had tickets for Game 3 of the NBA Eastern Conference Finals between the Indiana Pacers and Miami Heat that night. A huge sports day for Indianapolis.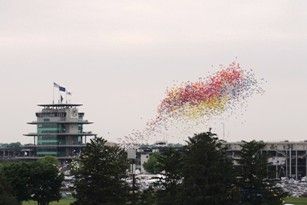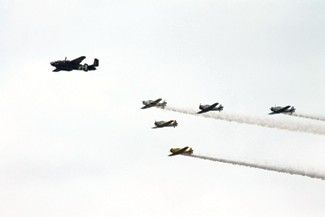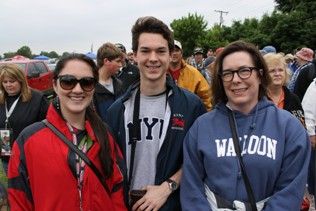 Dakota, Chris & Michele
We made our way to my seats, high in Turn three, across from a big-screen TV and with a panoramic view that includes everything from the exit of turn two all the way well in to turn four. From that vantage point we watched all the pre-race festivities, including the singing of "Back Home Again in Indiana" with Jim Nabors back after missing last year due to illness.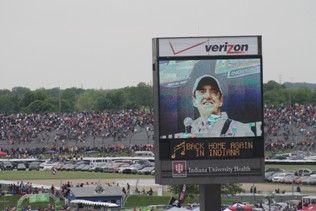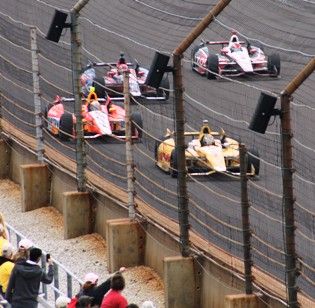 Chris
The start of the Indy 500 is unlike anything in sports as the eleven rows of three barrel down to the narrow cavern that is turn one , all the while jockeying for position and hoping not to cause a huge pile-up. It was a good start and early in the race polesitter Ed Carpenter, Marco Andretti and Tony Kanaan swapped the lead at an unprecedented pace. In all there would be a record 68 official lead changes, doubling the previous record set last year.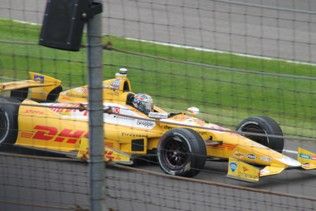 It was close, exciting, safe and unpredictable and made for a fantastic race. The race was in doubt right up until the final restart where Tony Kanaan passed leader Ryan Hunter-Reay just before a final yellow came out for a crash by Dario Franchitti that sealed the win for Kanaan, who finally won one after eleven previous tries and many close calls. Rookie Carlos Munoz was second.
Dakota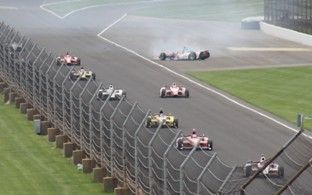 It was a hugely popular win as Kanaan has been a fan favorite for years and his many near-misses and great personality have endeared him to fans. Even many of the other drivers were happy to see TK win. After the race was completed, we were able to wisk home quickly thanks to the experience factor of years of knowing how to get in and out of the place and got home with time to rest before heading to the game.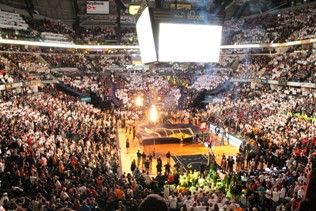 The series was tied heading in to game three, the first game in Indiana between the Heat and Pacers. I had scored my usual seats in the Legends Suite with free catered food and an open bar and we made our way in to Banker's Life Fieldhouse to enjoy the game. Sadly, for me at least, the Miami Heat played perhaps their best game of the entire playoffs and soundly beat the Pacers 114-96 to grab the series advantage 2-1. It was a clinic in how to play the game and even though the Pacers lost, to be able to watch the greatest player of this generation, LeBron James playing at the peak of his career is something special.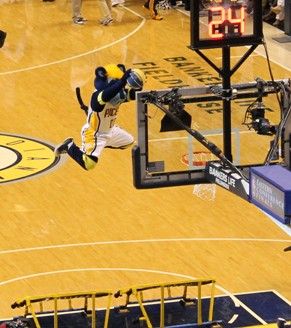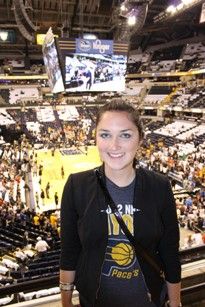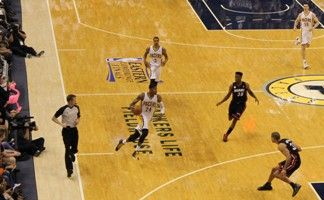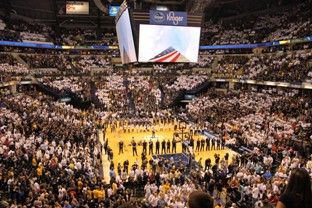 Miami played an almost perfect first half, shooting 63 percent and scoring 70 by halftime, lead by Udonis Haslem and James. It did not get much better for the Pacers in the second half. Still attending an NBA playoff game is awesome and we had a fantastic time, even getting to meet Pacer legends such as Mel Daniels, George McGinness and Rik Smits, so it wasn't a total loss. All in all it was a fairly spectacular sports day.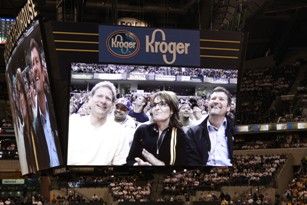 Sarah Palin booed at game.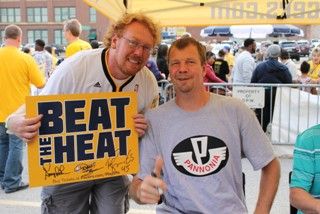 With Rik Smits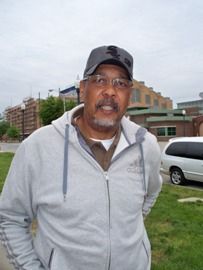 Pacer Legend Mel Daniels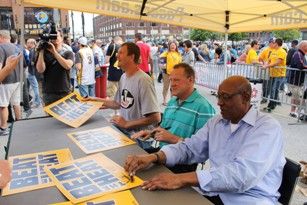 George McGinness, Don Buse & Rik Smits