"Perhaps the best Yuletide decoration is being wreathed in smiles"
December 22, 2010
"Perhaps the best Yuletide decoration is being wreathed in smiles"
Elena & Kathy
Tom
This simple quotation, author unknown, is an apt description for one of our favorite Key West holiday traditions, the annual Christmas Bicycle Lights Tour. This tour is not the "official tour" that started only recently and is a pale imitation if not in scope, then in spirit of the roguish nature of the tour that a group of our friends have been taking each December for some years.
Kathy
Scott, Elena & Michael
I attempted to determine the origin of the annual event, but the details are somewhat shady as are many of the participants. It appears that the bike tour idea originated with our friend Bill Rowan many years back. It has been taken up again after a brief hiatus and revitalized by our friends Nancy & Mark, who host the start of the tour at their home.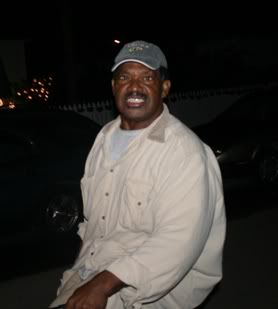 Robert Albury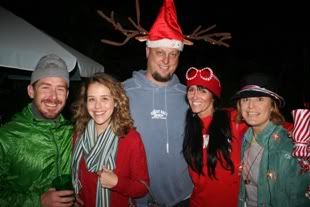 Arlo, Elena, Scott, Wendy & Kathy
It has grown in the few years we have attended and seems to get better each year. One difference between our tour and the "official" version is that adult libations are encouraged along our route (in a safe and responsible manner), also we tend to take over streets and stop traffic along our route. To keep things from getting out of hand, it helps of course to have high ranking members of the Key West Police along, not to keep order necessarily but as participants.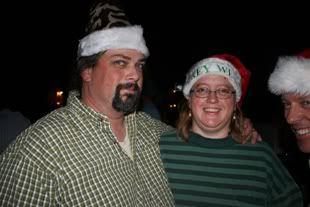 Nancy & Mark
This year's crowd was down a little, I think the chill in the air may have been a factor, but we were just as enthusiastic as ever and we wound our way through Old Town into New Town and back. Our house was one of the few pauses that were made in the otherwise breakneck pace that Bicycle Tom led us on.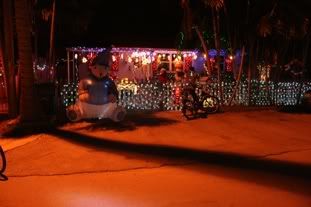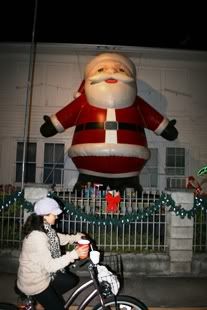 Cookie, Daisy & Angela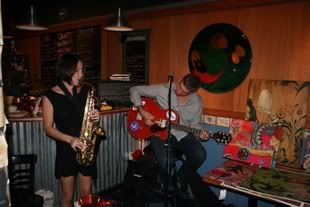 We made a couple of other stops at homes that welcomed in our mob and at a party at the Café restaurant where Clara Dara was hosting a holiday fashion show and party. The tour continued on to the final stop at Tony Falcone's house, but we never made it to the end, getting caught up at the café.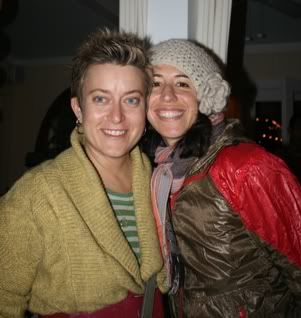 Jenny & Ashley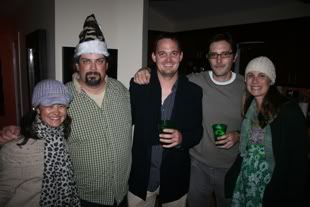 Natalia, Mark, Jolly, Haven & Gretchen
Scott & Kathy
We did however make our annual stop at the home of our neighbor's Dan & Ann who hosted their annual Christmas party the same evening. This year they roasted an entire pig to go along with the massive amount of food and beverages at the party, which is located just across the street and thus easy to get home from.
Ann & Dan
Also this week, we were thrilled to attend the second in the Old Town/ New Folk series at the Studios of Key West. This one had special meaning to Kathy & I because Will Kimbrough was our recommendation to Jay at the studios and we were thrilled that he was brought in for a show. Kathy & I are big fans, having seen him a number of times and he certainly did not disappoint.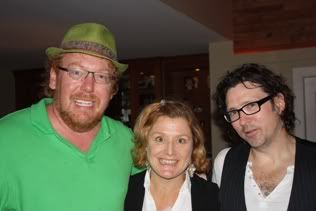 Michael, Kathy & Will
Will Kimbrough
His first set was scheduled to last 45 minutes and when he finally looked up and took a break an hour and a half had flown by and Will had delivered a set that was at times blisteringly good and just as often hauntingly beautiful. He is a true talent and if you are not familiar with his music- go check him out on youtube. He is a true troubadour who can play just about any variety of music and he is also a wickedly good guitarist. It was a real joy.
After the amazing performance, as he often does, Jay invited the entire crowd over to his festive holiday decorated home for an after-party. This one started a little later than usual since the show lasted so long, but no one seemed to mind. It was the perfect capper on a fantastic evening. Thanks so much to Jay and everyone at the Studios of Key West.
Kris, Kathy, Will & Martha