Race Day
May 28, 2007
Indy winner Dario Franchitti & wife Ashley Judd
Race Day
Race Day in Indianapolis began with a massive rainstorm, it rained so much that we almost got caught out by delaying departure to the track too long. Luckily due to local knowledge, we were able to zip out to the speedway and park just north of the track and miss the traffic caused by some 350,000 spectators. The rain stopped and track officials did a masterful job in drying the track for an on-time start at 1:00 PM.
Kathy & I brought along as guests our nephew, Jerome Noel and his cousin Jack Noel. Despite growing up in Indianapolis, neither had been to an Indy 500 before. They seemed to have an excellent time despite the weather. Our seats were high up in the North East Vista, which is located in turn 3 and offers a spectacular view down the back stretch and through turns 3 and 4. Prior to the race, I headed over into the infield where I was able to check out a little of the pre-race concert by American Idol also-ran Daughtry. He was actually not too bad, though I much prefer the traditional pre-race activities. Sadly Jim Nabors was ill and we missed his singing of "Back Home Again in Indiana", they had the crowd sing it, but it just wasn't the same.
Daughtry
The race began and was going along great, there was tons of exciting passing and the competition was great. Our seats were awesome and we saw all sorts of exciting wheel to wheel action. The weather was threatening and I was worried it might not make it to half way, but thankfully they did. On lap 113, the first deluge hit. The drenching rain stopped the action and it seemed that Tony Kanaan had won over Marco Andretti and Danica Patrick. There seemed to be no way to dry the track and resume and we came close to leaving. We headed to the car, where we actually sat in the car napping for 2 hours while the track dried. Amazingly the track dried and we were back in our sets when the race resumed.
It was great racing again and some 50 laps later, with the weather threatening again, the leaders pitted for fuel. Dario Franchitti and Scott Dixon opted to stay out and when the yellow came out for Marco Andretti's spectacular flipping accident, which happened in front of us, Franchitti and Dixon were 1st and 2nd when the rains returned. This time is was too much to be able to dry the track again and Franchitti was declared the winner. It was really an exciting and interesting race and I was thrilled that Dario won. My buddy Jason worked for years for Dario and thinks the world of him. It was a satisfying if damp day at the race.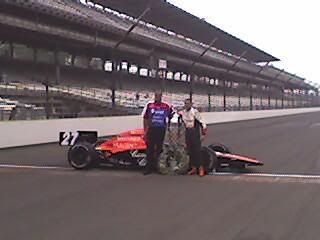 Jason with Dario & Borg Warner trophy