Carb Day
May 26, 2007
Kathy & Sarah Fisher
Carb Day
Kathy & I have once again made our annual Memorial Day pilgrimage to Indianapolis to attend the Indy 500 and all the various events and parties that accompany the race. This year marks my 35th consecutive year of attending the race. We stayed at my sister Michele's house again. It certainly is one of my favorite things to do with all that it entails. One of the annual events that we always try to see is the final practice session for all the qualified cars, known as carburetion day, even though Indy Cars do not happen to have carburetors.
Michele & Kathy
Held the final Friday before the race, carb day has turned into a huge party. Upwards of 100,000 people showed up under beautiful sunny skies this year for the day which included the final practice for the Indy Cars, the Freedom 100 race for the Indy Pro series 9 which is the minor league for Indy Cars, the annual pit-stop competition and a concert by Kid Rock.
As much as I enjoy the Indy 500, Carb Day has grown into a huge drunken party, almost like the old snake pit days of the 60s and 70s. We met up with a number of friends, including Matt Elliott, Kevin Love, Mark Wolfe and Pat Davis. Many of the members of our Calcutta syndicate, the Fisher Farts, were there as well, obviously scouting out drivers to bid on in the annual race party Calcutta that was held Friday evening.
Pat, John & Mark
Kathy
Despite the masses, we had a pretty good time. We stayed through the IndyPro race which was won by Alex Lloyd and the pit stop competition (won by Helio Castroneves) but took off just as the Kid Rock concert was getting underway. It was so incredibly packed, we could not have got close enough to see much anyway.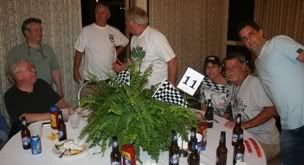 The Fisher Farts
Friday night, the Calcutta was held again, actually there were two Calcuttas held at the same place. Ours was the smaller and more affordable and the Fisher Farts were able to get row 10 and Scott Sharp. This year the pot ballooned to over $61,000. We are getting into high roller territory. The second, larger party included live music from a local band called the Yaggis which to my surprise featured a guy I know, Brad Elson as lead singer. It was a cool surprise, as was learning that Indianapolis Colts QB Peyton Manning made an appearance at the party. After the party, Kathy & I made a quick stop to check out the new homes of our friends John Cornwell and Dan Kurker. They each have purchased and fixed up starter homes in Indianapolis and it was great to see what they have accomplished.
Peyton Manning
The Yaggis
Nate, Dan & John