Spring
April 30, 2007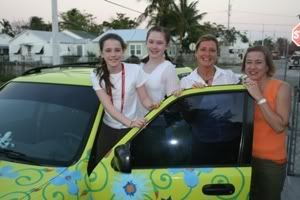 Megan, Emily, Kathy & Kristin
Spring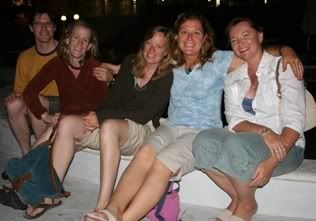 Michael, Ann, Kate, Kathy & Alison at Dante's
Henrietta
Spring in Key West is the short season where we go from the wind and heat of winter to the calm and heat of summer. It is also a time when all our snow bird friends head back north and the traffic is slightly more manageable and the amount of tourists declines. It is actually a great time to visit because the weather is generally wonderful, warm with a light breeze and sunny skies. It has proven to be a good time to receive visitors as well as we have had friends here each of the past two weeks.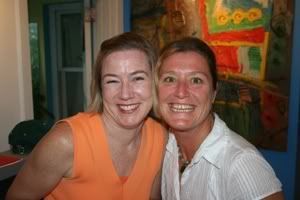 Kristin & Kathy
First up were Kathy's friend Kristin Neff and her daughters Megan and Emily, who came down from Massachusetts for a nice getaway. Kristin & Kathy have been friends since childhood and it was great to have them here. The girls loved the latest addition to the household, our chicken, "Henrietta". Chickee arrived out of the blue, small and alone a couple of weeks ago and immediately imprinted on Kathy. Since then, the chick has made itself at home in our home, even having its own private roost in the bathroom. Of late, thankfully, it (we have no idea what sex it is yet) has been spending more time outside with the older roosters in the yard. But it still flocks to Kathy whenever she is around.
Emily & Henrietta
This week, we have a new group of visitors, Kathy's friends from her days at Washington College, Kate Falconer and Ann Holmes along with Ann's boyfriend Michael Pfeiffer. Kate came all the way from Santa Cruz, California, while Ann & Michael came from Narberth, near Philadelphia. The occasion was Ann's 40th birthday celebration. It made for a long weekend full of celebrating. You can read another perspective by checking out Kate's blog via the link below. There is also a link to a couple of other blogs. The first is from Solares Hill, the weekly Key West newspaper; the other details the journey of our friends Ian & Jason Rowan as they trek across Central America on motorcycles. These blogs are far more interesting than this one, so mosey on over and check em out.
Henrietta & Michael
http://katefalconer.blogspot.com/
http://solareshill.typepad.com/
http://www.notthemotorcyclediaries.com/