Homestead Indy Racing
March 30, 2007
Wheldon leads from the start.
Jim with Grand AM car
Inside the Andretti Green garages
Homestead Indy Racing
Last weekend, Kathy's father, Jim Kilroy & I ventured up to Homestead for the weekend to attend the opening race of the 2007 Indy Racing League season. The stars and cars that will be racing in the Indy 500 in May began their season on the 1.5mile high banked track with a Saturday night race. Jim & I went up on Friday and spent the afternoon and evening at the track watching practice and qualifying as well as the Grand AM and Indy Pro support series practice and qualifying.
Jason
We were fortunate as my good friend Jason, who works for the Andretti Green racing team of Marco Andretti, came through once again with personalized tours of the Andretti Green transport, garages and VIP passes to the team chalet. It adds such an in depth, behind the scenes aspect to attending a race and is much appreciated. Unfortunately, Marco Andretti had a horrid race, after qualifying 5th, he battled an ill-handling car and finished in 20th place. The race was delayed slightly by a light rain and turned out to be pretty much a runaway as Target Chip Ganassi driver Dan Wheldon dominated most of the night. It marked his third consecutive win at Homestead. Teammate Scott Dixon finished second with Sam Hornish Jr. third and Vitor Meira fourth. It wasn't a great day for either of the IRL women drivers, Sarah Fisher finished eleventh, five laps off the pace and Danica Patrick came home in fourteenth after crashing into the pit wall. Future IRL Driver, Venezuelan Milka Duno was on hand, but drove only a limited amount in the Grand AM support race and did not start the IRL race.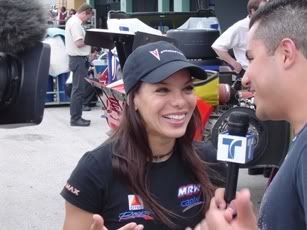 Milka Duno
Scott Sharp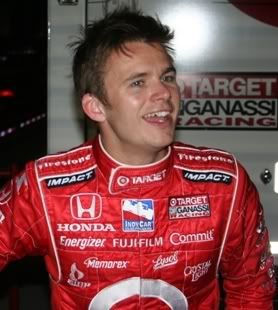 Race Winner Dan Wheldon
The night racing was certainly more comfortable for the fans than the previously held and often blazingly hot day races. In fact it was almost cool. While in Homestead and not eating the delicious food at the Andretti chalet, we had a great Italian meal at the legendary Capri restaurant in Florida City. Just off Highway 1, the place is worth seeking out if traveling through Florida City on your way to the Keys.
Danica Patrick's Car
Jim