Happy Birthday Anne!!
May 1, 2007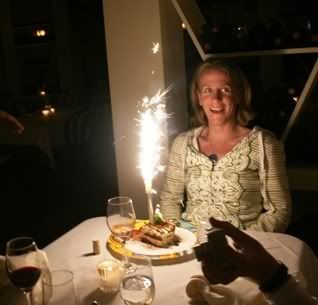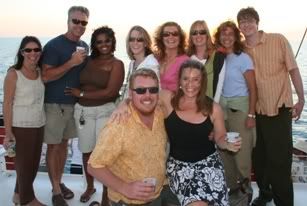 Gae, Terry, Reggie, Anne, Kathy, Kate, Ali, Michael, Michael & Nadene
Happy Birthday Anne!!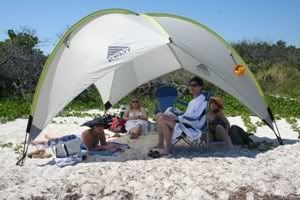 Bahia Honda
We had an amazing weekend celebrating our friend Anne's big birthday. We spent the day on Saturday lounging out at the pool at the Grand Key Resort, the weather could not have been any more perfect and we swam, relaxed and enjoyed lunch at the poolside bar. It's a great place to hang out. After a quick break, we gathered again, this time joined by a large group of friends at Zero Duval Street where our friend Nadene & Kathy had organized a group outing aboard the Catamaran Fury for a wonderful sunset sail complete with live music.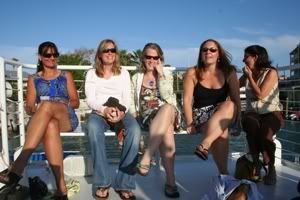 Cammy, Kate, Anne, Nadene & Gae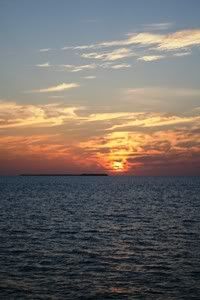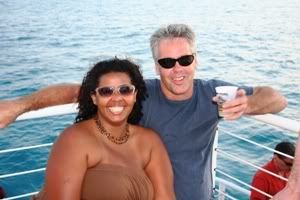 Reggie & Terry
Joining us were friends Anne & Michael, Kate, Nadene, Cammy, Reggie, Terry, Gae & Ali. The sail included free wine, beer and food in addition to the amusing company and a beautiful sunset. It was really a perfect evening. After returning to shore, we all headed over to La Trattoria restaurant, where we had reservations for dinner. After a short wait at Virgilio's we had a nice Italian dinner in the relaxed ambiance of one of the island's most enjoyable dining establishments. They even brought Anne a piece of cake with a huge sparkler on it that seemed more like a full-fledged firework, I was surprised the fire alarm did not sound. We always enjoy meshing our friends, bringing friends from the different aspects of our lives and bringing them together. That was the case here as many of those present had not met the others. Thankfully the majority of our friends are fairly accessible and it always seems to work out.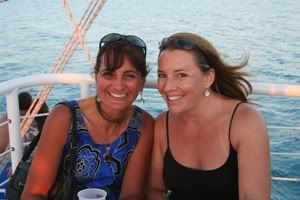 Cammy & Nadene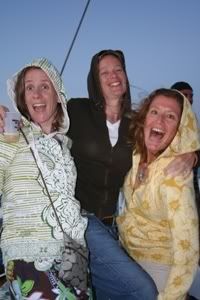 After dinner, some of the group headed home while Kathy, Anne, Michael and Kate all hit the town, heading first to Club Aqua to watch the drag show before going down Duval Street to The Bull & Whistle to watch Dora sing.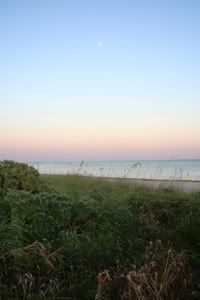 Sunday we spent the entire day at Bahia Honda State Park, we once again enjoyed perfect beautiful weather, with bright sunshine and a light ocean breeze. We set up our trusty Kelty sunshade and lounged about. We'd packed a delicious lunch from the Waterfront Market deli and enjoyed the day. Of course the hi-light had to be our discussion of Anne's impeccable driving record despite her frequent brushes with authorities.
http://www.grandkeyresort.com/
http://furycat.com/
http://www.latrattoria.us/