Howard & Najada (Part II)
October 23, 2009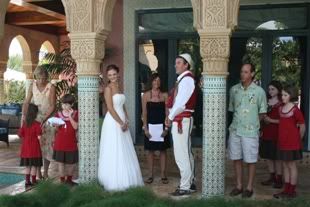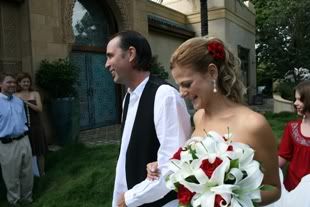 George & Najada
Howard & Najada (Part II)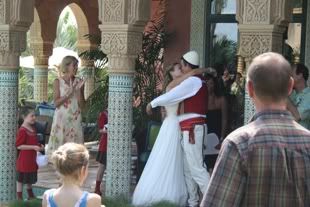 Howard & Najada's wedding day dawned hot and humid; this October has been one of the warmest on record with temperatures in the 90s a constant. A cold front which would bring slight relief was due Saturday evening, but it was nowhere to be seen Saturday afternoon. Things have a way of working out and they did for the wedding.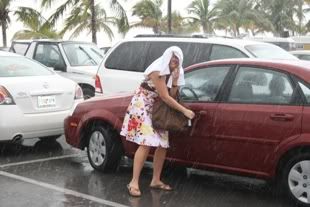 Wendy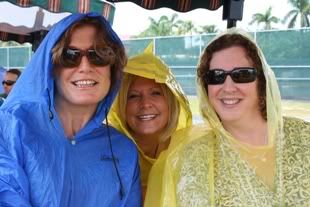 Kathy, Wendy & Kris
Najada & Howard's nieces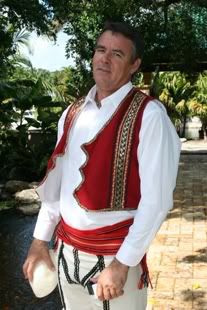 Howard
Arrangements had been made for wedding guests to board a conch train at Salute Restaurant to transport them to the ceremony as there is limited parking at that location. Afterwards, the train would bring everyone back for a reception at Salute. Just as guests were boarding, the skies opened up and rain pelted the assembled guests. Thankfully the train supplied ponchos or there would have been some very damp people.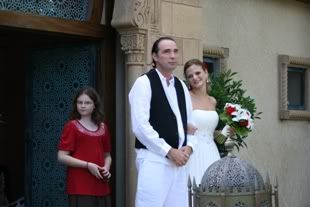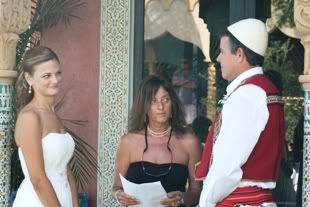 The good news is that by the time the train pulled up at the wedding destination the rain was gone and it was back to bright sunny skies. The timing could not have been more perfect. It made for a beautiful ceremony.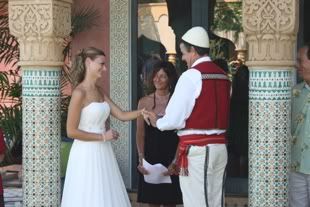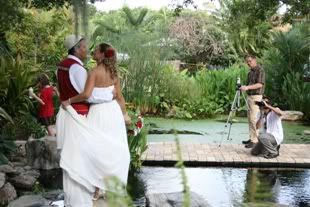 Najada, Howard & Mary
Howard surprised his bride by donning a traditional Albanian wedding suit; he looked great but was still overshadowed by Najada who was breathtaking in her beautiful gown. Our friend Suzy Jo performed the ceremony which was simple and lovely and the gathered crowd toasted the newly married couple.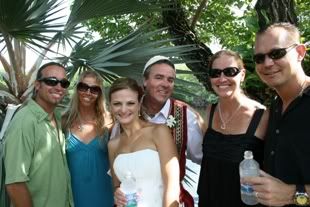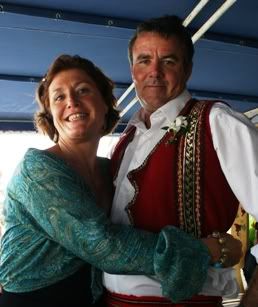 Kathy & Howard
George's amazing home provided a beautiful backdrop and wonderful setting to the wedding. Easily the most beautiful home in Key West, George's house and gardens were recently featured in Architectural Digest. Not simply done in Moroccan style, the home was constructed from all original imported material by Moroccan artisans who hand crafted the incredible detail work. The incredible lush gardens and pond only add to the grandeur of the place.
At Salute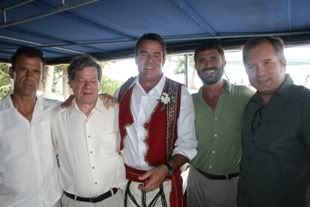 RPM's Mike, Jim, Howard, Corey & Jeff
We were back on the train and headed back to Salute for the fantastic reception after the ceremony. The reception was really fun and featured food from the fantastic Salute restaurant and delicious cakes which were prepared by the incomparable Elliot Mercieca who normally serves as the chef on the RPM research vessel Hercules. Elliot came over from his home in Malta for the wedding for his first visit to the states.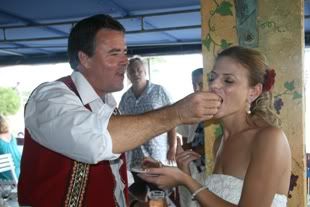 Lee snares bouquet
It was a great time and everything went so smoothly that you'd think Howard had a second career as an event planner. Post wedding festivities involved more going out on the town with all the out of town guests and a wonderful cook-out for all the RPM crew back at George's house on Sunday. Now Howard & Najada are off on their honeymoon and things are creeping back to normal. It was so great to get to meet so many new people and to enjoy the occasion with old friends as well.