St. Patrick's Day Bar Stroll
March 17, 2010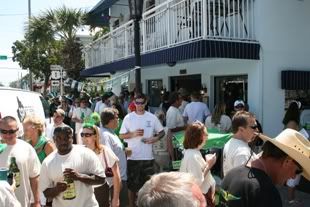 St. Patrick's Day Bar Stroll
Kathy & Dakota
There are many, many kooky and fun events that fill the calendar here in Key West, some of them have been going on for years, but few have been going strong for over 30 years like the annual St. Patrick's Day Bar Stroll. Held on the Saturday afternoon closest to St. Patrick's Day, the bar stroll celebrated its 32nd anniversary this year.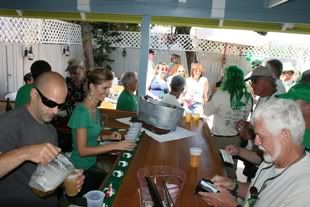 The stroll actually started out as the St. Patrick's Day Suds Run way back in 1979 and was originally a running race in which participants raced across the island stopping at a variety of bars to pound a beer at each stop. It was founded by Curly McGinn (who at the time owned the Sandcastle Bar which was located at what is now Michael's restaurant) and Rick Dostal who still organizes the event and has participated every year.
Rick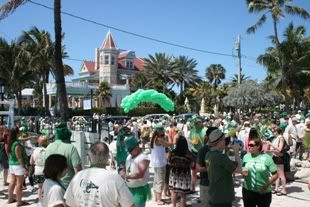 Bethany, Richard & Kathy
After some years, the run was changed to a stroll to get a better handle on the power-puking that most of the runners experienced. Key West's own Buco Pantelis won the final running event and is still known as the defending champion. Today the stroll is a much more leisurely, though still often puke-inducing event that is enjoyed by huge throngs of participants both locals and visitors who travel from far and wide to join in.
They gather at noon to begin the trek, which this year featured stops at ten of Key West's watering holes throughout the day. Many participants dress in outrageous Irish attire and all seem to have a good time. For the past few years, the event has conflicted with the Spring Fair, but this year the dates were different and I was able to head down.
The evening before, we had the pleasure of a visit from our friend and former Kathy's former mentee, Dakota, who was back in Key West on Spring Break from the University of Florida. We first headed out to the art opening for another friend, artist Eric Anfinson at Gallery 612. Anfinson's new collection of paintings is the featured exhibit at the recently opened Fleming Street gallery.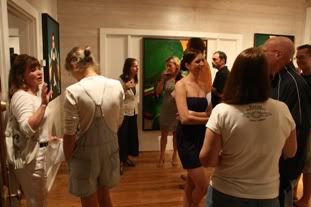 There was a great crowd at the opening, enjoying the artwork and the finally arrived relaxing and enjoyable weather. It was fun hanging out with Dakota, who seemed to be enjoying her spring break. For dinner, we headed over to enjoy a meat feast at the incredible Braza Lena Brazilian steakhouse.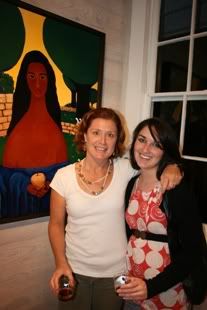 St. Patrick's Day Bar Stroll website