MotoGP Indy
September 19, 2008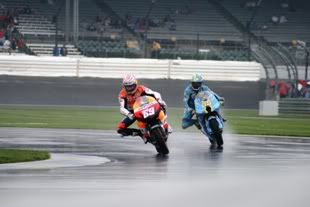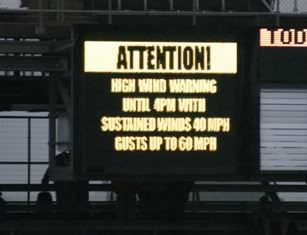 Moto GP Indy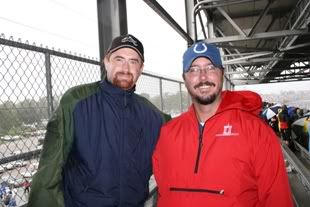 Mike & Kevin
Having suffered through a glancing blow from Hurricane Ike in Key West last week, I wouldn't have ever guessed that the storm would track me down again in Indiana. Sunday afternoon in Indianapolis, Ike hit with dramatic force, right in the middle of the MotoGP motorcycle race that I was attending at the Indianapolis Motor Speedway. Wind and rain that would have canceled about 90% of sporting events hampered the race, but the riders braved the elements in truly unbearable conditions until it simply got too bad to continue and the race was called with 8 laps remaining.
Start of 125CC race
The day didn't start out as a weather disaster, in fact they were able to get the 125cc motorcycle support race and the warm-ups in with-out a problem, but heavy, heavy rain soon hit and the winds picked up to a steady 40 mph range with frequent gusts of over 70 mph. It was so bad that I had to leave my excellent uncovered seat, for the relative safety of the covered grand-stand along the main straight where I joined my friends Kevin Love & Mike Seltzer to take in the craziness.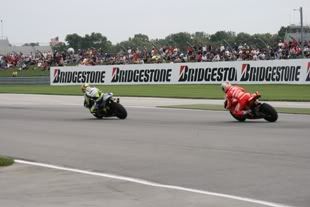 The race was dominated at the start by Nicky Hayden who led early and seemed to pull away until five-time world champion Valentino Rossi worked his way up from forth to challenge for the lead. That the riders could remain upright, let alone pass under those conditions in miraculous, but Rossi charged into the lead and began to pull away when the race was called.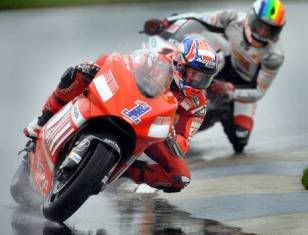 Rossi wins!
It was my first experience with motorcycle racing, and while it still falls far short of the excitement of an Indy 500, it was pretty exciting stuff. I especially enjoyed the knowledgeable, interesting mix of fans that the race brought to the speedway. The announced crowd was over 91,000, which is amazing considering the weather conditions. With many of the fans crowded along the mounds through the turns rather than in the traditional grand-stands, the place seemed rather empty and traffic was no issue at all either, perhaps because many of the fans arrived themselves on motorcycles.
Kevin & Michael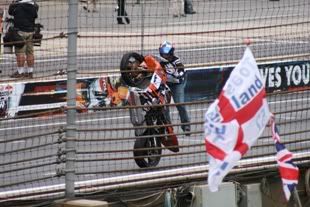 The weather was the story of the day though, as trees and limbs were down all over town, power outages and delayed flights the order of the day. I honestly cannot wait until hurricane season is over.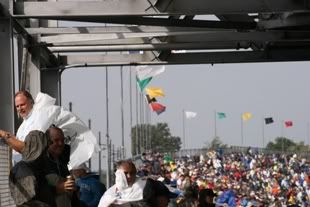 Wind rips away flags.