Hoosier Hysteria
February 22, 2008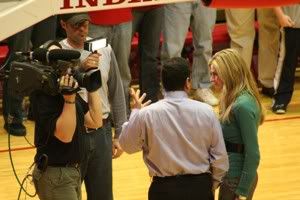 ESPN's Erin Andrews & Coach Sampson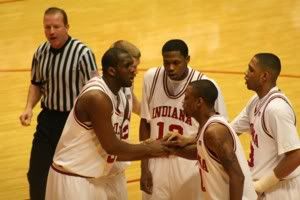 Hoosier Hysteria
As soon as the buzzer sounded at the Butler/ Cleveland State game, I was headed south to Bloomington, a 45 minute drive from Indianapolis to yet another college basketball Mecca, Assembly Hall on the Campus of Indiana University. The embattled Hoosiers were playing their first game since revelations that their coach, Kelvin Sampson had been accused of recruiting violations that could possibly lead to his suspension or firing.
IU's Eric Gordon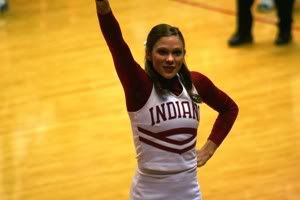 The Hoosier team meanwhile, was battling for the lead in the big ten conference and was playing tenth ranked Michigan State in a nationally televised (ESPN) Saturday night game. After eating dinner at one of the many Kirkwood Street establishments, I headed over to the game to see how the Hoosiers would react.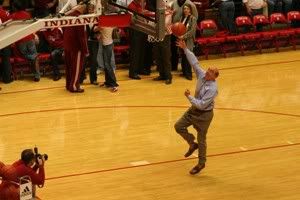 Dick Vitale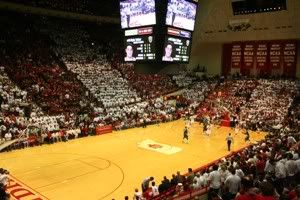 Assembly Hall
The scene inside of the arena was as frenetic an atmosphere as I have any experienced in years of attending basketball games. The fans were crazed and loud, though it was difficult to tell if they actually supported Coach Sampson or simply just the team. What wasn't in question was the effort that IU put forth. After falling behind by 11 early in the game, the Hoosiers suddenly hit a switch and romped to an 80-61 victory in front of the crazed crowd. Freshman sensation Eric Gordon scored 28 points and IU improved to 21-4 overall and 10-2 a half game behind Purdue for the big ten lead.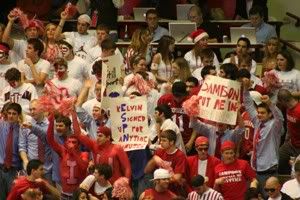 Things don't look good for Sampson in the long run, but at the moment, the Hoosiers seem capable of making a deep run in the tournament with Gordon and center D.J. White leading the way. It was a satisfying drive back to Indianapolis after a weekend seeing three stellar games.