Key West Literary Seminar- Session1
January 17, 2008
Robert Richardson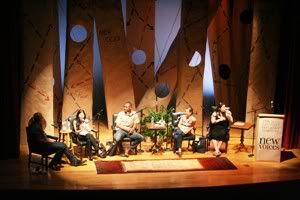 Key West Literary Seminar –Session 1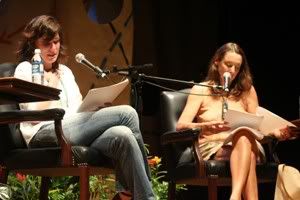 Hannah Pittard & Ann Beattie
One of the most outstanding literary conferences in America is held each year right here in Key West and for the 26th consecutive year a collection of the finest writers on the planet has converged on our little island for dual sessions of conversation, reading and interaction. This year's theme, "New Voices- Where Have We Been? Where Are We Going?" is an inspired one in that established writers have selected one or two new and emerging writers to participate in the dialogue. The result has been an exciting and fresh new perspective and an introduction to many exciting young voices.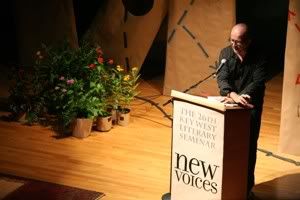 Mark Doty
Maggie Nelson
The first session included such established writers as Mark Doty, Robert Richardson, Edmund White, Ann Beattie and Judy Blume. Outstanding new writers included Uzodinma Iweala, Patrick Ryan, Bich Minh Nguyen, Vestal McIntyre, Tina Chang, Terrance Hayes, Brenda Shaughnessy, Hannah Pittard and Maggie Nelson. There was also an outstanding reading by a young writer named Kristen-Paige Madonia.
Patrick Ryan
Vestal McIntyre & Bich Minh Nguyen
Uzodinma Iwela & Robert Stone
Kathy & I are signed up to attend the second session, so to participate in the first session, I opted to become a seminar volunteer. Volunteering allowed me to assist as an usher or selling seminar swag and then be allowed to catch those sessions as well as a few of those when I was not working. It was a great deal and a privilege to be involved in even a small way with such a stellar event. Kathy was busy during the weekend helping with the huge fundraising sale to benefit the Key West Preschool Co-op. The first time event was a huge success with hundreds of attendees and many happy vendors participating.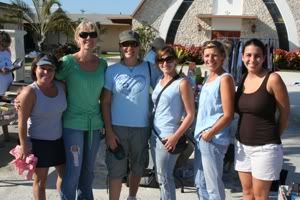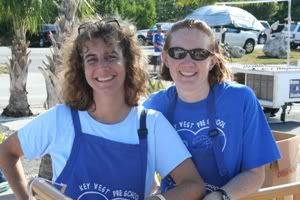 Ally & Erin
Back at the seminar, I was really impressed with some of the New Voices. Hannah Pittard, Vestal McIntyre and Terrance Hayes were the stand-outs in my opinion. Having new, mostly younger panelists brought a wonderful new energy and enthusiasm to the event and I applaud the board for bringing these writers. I am really excited about repeating the process with session 2 this weekend. We have a writer friend, Beth Grant, who is coming to stay with us and who will be attending this week's workshops and attend session 2. Her writing skill allowed her to get a scholarship to participate.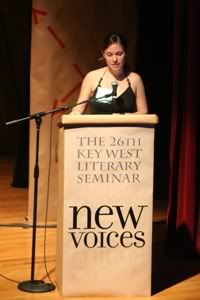 Kristen-Paige Madonia
Key West Literary Seminar
Seminar Blog