Everglades & Coral Castle
March 30, 2007
Coral Castle
Everglades & Coral Castle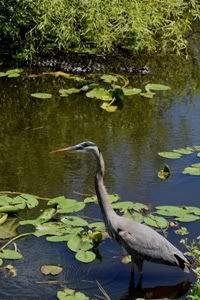 In addition to attending the Indy Car race, Jim & I took advantage of our time in the Homestead/ Florida City area to tour some the attractions in the area that is known as the Redland Tropical Trail. This historic area is home to some of the most productive agricultural land in the state as well as two National Parks and a variety of other diversions that are sadly being encroached upon as the sprawl from Miami moves south.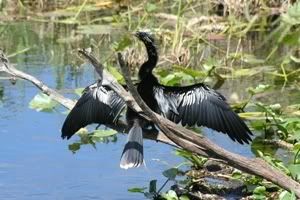 Anhinga
Our first stop was the visitor center at the Eastern entrance to the Everglades National Park. After picking up a map, we headed into the park to the nearby and extremely popular Anhinga Trail. The trail is not long, and much of it is merely a wooden walkway that is raised above the swamp, but it is home to an amazing assortment of animals and birds that call the Everglades home. Best of all, they seem mostly immune to the close proximity that people are given which makes for excellent photo opportunities.
There are tons of alligators, turtles, snakes, and a huge variety of birds and it gives a simple opportunity to get an introduction into the everglades eco-system. We also hiked the short Gumbo Limbo trail which traverses a woody section of the park and gives you a look at the flora of the place as well. Next we headed back towards Homestead; stopping at the famous Robert is Here fruit stand. Located on an isolated stretch of road near Florida City, the huge tropical fruit stand has served the area for over 60 years. Serving a wide range of the finest fresh topical fruit, the stand also features live music and a yummy Key Lime smoothie.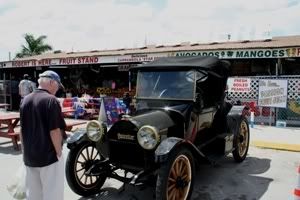 Robert is Here
The final, but perhaps most interesting stop on our trip was at the Coral Castle. Created as a labor of love by the eccentric Latvian-American sculptor Edward Leedskalin who spent 28 years creating the castle in a bizarre attempt to impress a lover who had jilted him, the castle is made of huge pieces of coral rock, some weighing many tons and positioned to create an actual castle. Long a source of mystery and speculation, the coral castle is an amazing place to visit, if for no other reason than to marvel at how a single man could have moved and stacked the massive coral slabs. Check out the links below to learn more about this interesting place.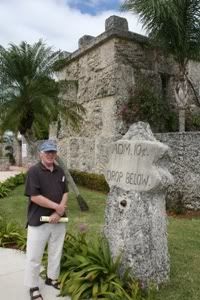 http://www.coralcastle.com/
http://www.redlandtrail.com/member_teva.cfm
http://www.robertishere.com/