Guster & Brett Dennen
October 19, 2007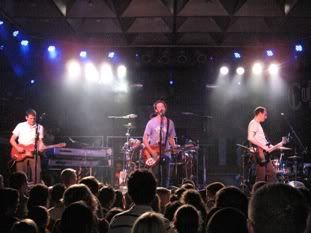 Guster
Brett Dennen
Guster at the Culture Room
Guster & Brett Dennen
The morning after Greg's birthday extravaganza, Kathy & I headed up US1 towards Ft. Lauderdale. We were joining our friends Nadene, Trevor, Melissa & Rhett to attend a Guster & Brett Dennen show at a club called the Culture Room. After a brief stop at the Sawgrass Mills mall where we did a bit of shopping, we headed over to the Holiday Inn at Lauderdale by the Sea where we checked in, took a quick beach stroll and then prepared to head over to the Culture Room.
Kathy, Nadene, Trevor, Melissa & Rhett
After a quick meal at Pizza Rustica, we joined the long line outside the club waiting for the doors to open. I'd been to the club some years back to see Concrete Blonde and was amazed at what a great job has been done renovating what was once a seedy hole in the wall. It's actually quite nice and there was plenty of room once we got inside.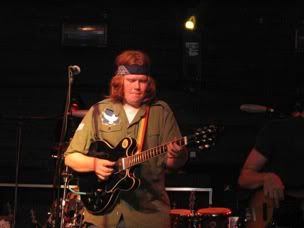 We are big fans of both Brett Dennen and Guster, in fact it was the third time seeing each of them in the past year. Brett opened the show with a decent performance but it wasn't as good as either of our previous shows. Maybe he was just slightly off, but I wasn't blown away like I'd been previously. Thankfully Guster's performance more than made up for any letdown.
It was great to be able to see Guster in such a small intimate venue. If you are not familiar with their music, you should try to get to see them sometime. Original members Adam Gardner, Ryan Miller and Brian Rosenworcelin, along with relative newcomer Joe Piscapia, play a unique style of music, often utilizing acoustic guitars along with hand driven percussion and three part harmonies that are rare in rock music.
The show was great, they were in a great mood, happy to be taking a break from a College tour and be playing in an actual bar. Ryan took full advantage, downing the better part of a bottle of whiskey in the final third of the show, after seeking approval from the crowd of course. The set was long and included just about every Guster hit you might have wanted to hear. They were also very amusing and funny, joking with the crowd, letting the crowd sing part of their encore during "2 Points For Honesty" and allowing drummer Brian to sing a hilarious off-key version of the theme from the TV show Cheers. It was a great, great show.
Brian sings Cheers theme.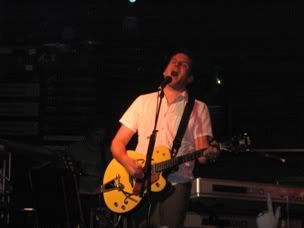 Afterwards, we hung around the bar drinking and both bands came out and hung with us, which was kind of cool. It was much less the rockstar/fan relationship and more just hanging out and talking to the few people who remained after the show was over. My guess is most of the attendees had already been picked up by their parents since we were in the older third of the audience. It's too bad because people are missing out on two of the most clever, talented and enjoyable bands around.
Michael & Kathy w/ Brett Dennen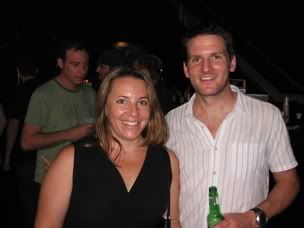 Nadene w/ Guster's Ryan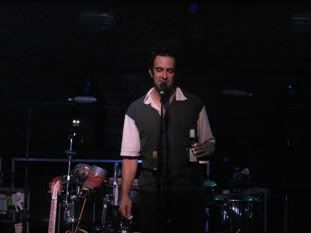 Brian sings!
http://www.guster.com/
http://www.cultureroom.net/