Martha & David
October 12, 2007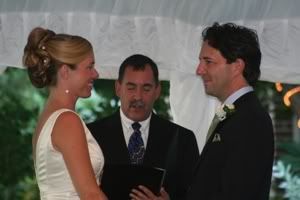 Martha & David
Kathy & I had the good fortune to attend the wedding of our good friends Martha Resk & David Dlugitch last weekend here in Key West. The wedding was held on the same weekend in October (Columbus Day) of our own wedding, four years ago. Their wedding was held on the lawn at Truman's Little White House, with a dinner inside the house and the reception back on the lawn.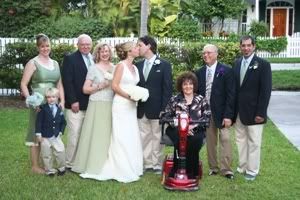 Having known Martha since 1993, I can easily say that she has never been happier or more relaxed than she has been since she met David. They are a perfect complement to each other and as nice a couple as you are likely to encounter. The wedding was an intimate gathering of family and old friends and Kathy & I felt honored to be included.
Kathy, Greg & Bud
Scott, Martha & Michael
It was also really fun, we got to see some old friends and meet a lot of new ones. It always surprises us to meet people from Key West that we have not met somewhere before, especially if they have been here for any length of time. It was especially nice to see Scott Boykin back in Key West. Currently living in Miami, Scott, Martha, I and a few others once were regularly seen at assorted bars about town when we weren't out saving the coral reef, and the occasion of Martha's wedding was a great opportunity for a mini-reunion.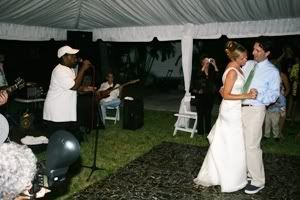 First Dance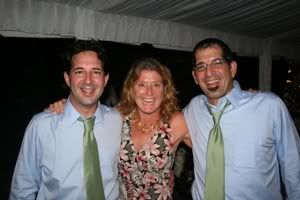 David, Kathy & Jack
The wedding was beautiful, the dinner wonderful and the reception went by far too quickly..We had a great time dancing to the classic styling's of Key West legend Robert Albury, an inspired choice for a wedding band.
Sunday morning, we joined the wedding party for brunch at Croissants de France on Duval Street. A driving rain couldn't dampen the spirits or the delicious food as we hung out with Martha & David & their family prior to their departure to Mexico for their honeymoon.
David, Martha & Scott
On a sad note, a dear friend of all of ours, Bill Ford passed away this week at the age of 91. Bill and his wife Fran served as role models to Martha, Scott, I and every other environmentally conscious resident of the Keys. Their tireless activism and love for their community has been a blessing for Key West. Bill's compassion, humor and ability to recall and explain his seemingly endless knowledge of the Florida Keys and its history, culture and environment will be dearly missed. Our deepest sympathy goes out to Fran Ford and the entire Ford family.