Folks Fest-Day 2
August 19, 2007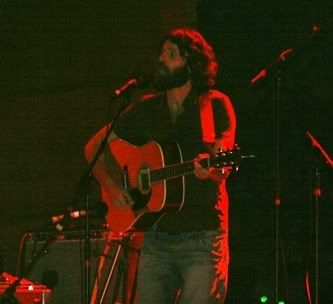 Ray LaMontagne
Folks Fest- Day 2
The second day of the festival was one that I was certainly looking forward to; I was really looking forward to seeing Brett Dennen again. We saw him first last fall at the ACL festival in Austin and I have become a huge fan since and was thrilled to see him on the Folks Fest bill. We were up and on-site early for another 12 hours of music. Thankfully Bruce & Kerry had managed to score our prime spot again thanks to their camping on-site. Having a large pop-up shelter enables us to be out of the direct sun and any rain and allows us to set up 8 or so chairs comfortably underneath it.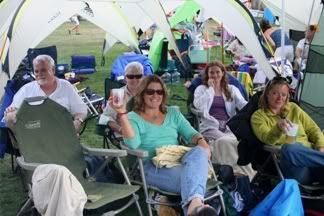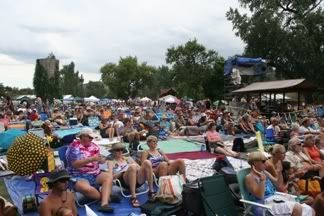 A friend of Bruce & Kerry was playing in the brand new Wildflower pavilion (formerly Wildflower tent) that serves as a second stage as part of a Colorado songwriter circle. Danny Shafer played along with Frank Martin and a brilliant young singer songwriter named Reed Foehl. We were suitably impressed and even purchased one of Reed's CDs.
The main stage had a steady stream of top notch talent which started with last year's winner of the Planet Bluegrass songwriter showcase, Mitch Barrett. Each year there is a week long songwriting school in advance of the festival as well as a songwriting competition with over 7000 entries. The ten finalists perform and a winner is selected. Mitch won last year and it was easy to see why. This year's winner was Sarah Sample who was excellent, but my favorite was a woman named Amy Speace.
The eclectic Zoe Lewis & her Rubber Band were next on the main stage, followed by Arthur Lee Land who performed his looping overlaid creations. Next up was a more traditional singer/songwriter Catie Curtis who played folk-rock with a joy that was contagious. She was easily my favorite of the early performers.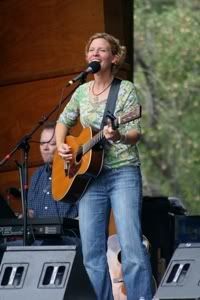 Catie Curtis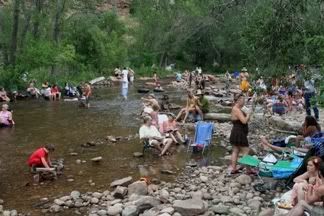 St. Vrain River
The late afternoon brought a return to the stage of David Rawlings and Gillian Welch, this time performing as The Dave Rawlings Machine which focuses much more on the guitar mastery of Rawlings on his vintage 1935 Epiphone Olympic archtop guitar. It creates a sound unlike any I've heard and it was an amazing performance. We saw the first drops of rain during their set, but our shelter worked like a charm, even when the drops later turned into a brief torrent.
Dave Rawlings Machine
Dave, Gillian & Michael
The rain was mostly over when Brett Dennen took the stage, and his performance did not disappoint. He pretty much had the crowd captivated from the first notes. If you are not familiar with his music, do yourself a favor and click on the link below. After Brett, Folk legend Judy Collins performed an amazing set of classic songs that included a number of Beatles covers and terrific renditions of "Cat's in the Cradle" and "Both Sides Now". Her magical voice has not lost a thing in the 40 years she has been wowing audiences. Her performance was so good that she probably should have had the closing set.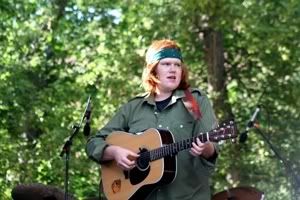 Brett Dennen
Judy Collins
Instead that honor went to Ray LaMontagne. It was the third time in the last year, Kathy & I have seen Ray. We saw him last summer with Guster and also at ACL, but this performance was the best we've seen. His voice was strong and he commanded the stage. It must be said that the sound system at Planet Bluegrass was as good as I have ever heard. Crisp and clear, even through the rain, which returned during Ray's set. By the time he finished, we were fairly exhausted from another amazing day; thankfully there was a cold Old Chub beer and a hot tub waiting back at the cottage.
http://www.reedfoehl.com/
http://www.dannyshafer.com/
http://www.myspace.com/brettdennen
http://www.catiecurtis.com/
http://www.raylamontagne.com/