Indianapolis 500
May 31, 2010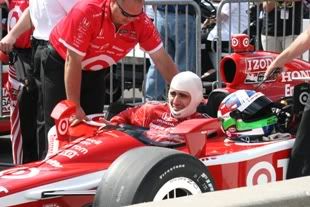 Dario Franchitti
Indianapolis 500
This year marks the 94th running of the Indy 500, which was first contested in 1911, but not held during the war years. This year marks my 38th consecutive year of attending ,"The Greatest Spectacle in Racing" which means that I have witnessed just over 40 % of the Indy 500s ever run. I just can't imagine not being there. In past years I have sat through rainouts, windstorms, freezing cold all just about every other condition you could have, but this year had to be one of the hottest Indy 500s ever, with temperatures at the track reaching 96 during the race.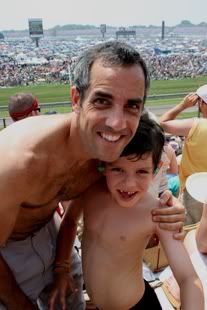 Wes & Keegan
For years, a group of friends have gathered on race day morning at the riverside home of our friend "big" Tim Micheli to prepare to carpool out to the race, where they have pre-paid parking a mere 100 years or so from their seats in Turn 3, just down from my seats. I have always headed out to the track earlier, since they often leave only an hour or so before the green flag, but this year I opted to join them. My friend Wes and his young son Keegan were joining me for the race this year, and it was easier just to tag along with the large group.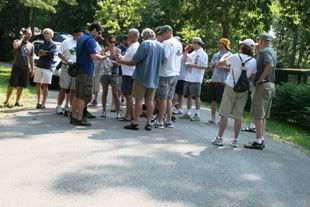 Pre-Race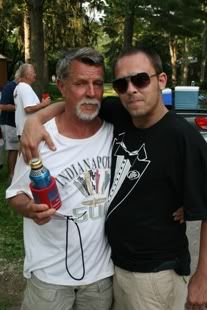 Their race day plan worked to perfection as we were out to the speedway, parked and in our seats with 40 minutes, just in time for the pre-race traditions that I love so much. From Florence Henderson's "God Bless America" to the playing of Taps to honor veterans, to the incomparable Jim Nabors singing, "Back Home Again In Indiana" and finally the command to start engines, the tradition and pageantry are unmatched.
Back Home Again In Indiana- Jim Nabors
The race itself was excellent as well, eventual winner Dario Franchitti, dominated much of the day, leading 155 of 200 laps, but there was plenty of excitement to keep us entertained. I especially enjoyed watching Tony Kanaan charge from his last place starting position all the way up to second before needing a final splash of fuel. Franchitti may well have run out of fuel if not for the final yellow flag caused by a spectacular crash that happened right in front of our seats when Mike Conway hit Ryan Hunter-Reay and flew up into the catch fence, escaping with only a broken leg and hurt back. It was an incredible sight and it also broke my Calcutta winning streak as we had Hunter-Reay.
Mike Conway crash
The day was hot and humid, but I kept hydrated and stayed in the stands throughout, though many, many people sought refuge in the shade under the stands during the race. The race had the regular gathering of celebrities, with a new feature this year that had actor Mark Wahlberg in the two-seater Indy Car driven by Michael Andretti to start the race and actor Jack Nicholson waving the green flag to start the race.
Mark Wahlberg & Michael Andretti
John Andretti
Keegan
Dario captured his second race win, this one going the full 500 miles (in 2007 the race was shortened by rain). It was a popular win for a great driver, and once again it was great to see his wife, actress Ashley Judd celebrating along pit row. Team Penske which had been a heavy favorite, had an average day, with none of their drivers a real factor.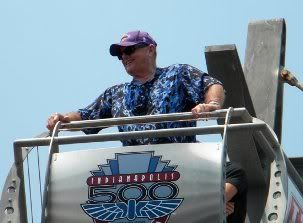 Jack Nicholson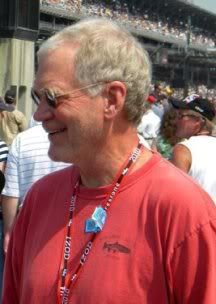 David Letterman
Getting out of the track was even easier (thanks to a convenient hole cut in the fence leading to our parking spot) and with-in 30 minutes we were back at our starting point, relaxing along the banks of the White River.
Michael & Wes *photo by Keegan
Shannon