We've Got a Lot to Drink About
February 19, 2009
JohnSmith
Megan, Kristin & Emily
We've Got a Lot to Drink About
Stone Soup
In addition to the festive Valentine's Day events of last Friday, we have been busy with a number of other events as Key West was alive with things to do over the week that included not only Valentine's Day, but the President's Day holiday which found Kathy off from work. The week was hi-lighted by a visit from a long-time friend of Kathy's, Kristin Neff and her daughters Megan & Emily who came down for the long week-end.
The week also included a plethora of musical options ranging from the third evening in the Old Town/ New Folk music series at the Studios of Key West, to the return of the Miami funk band Suenalo to the Green Parrot to a rare surprise appearance at Margaritaville by the legendary Jimmy Buffett. Jimmy played a special 2 ½ hour show to the delight of Maragaritaville staff, friends and a few lucky members of the public. He included a brilliant new song, "We've Got a Lot to Drink About".
Jimmy Buffett- Live at Margaritaville
Kathy & I attended the Folk show at the Studios by an amazingly talented singer/songwriter named JohnSmith. It was a wonderful performance that was followed by an equally wonderful reception at the beautiful home of Jay & Carolyn Scott to celebrate the performance. JohnSmith is well worth checking out, I have included a video to give you all an idea of the performance.
Kelly, Skipper, Arthur, Roz & Jay
Johnsmith Live
We also found ourselves at the wonderful Stone Soup art gallery on White Street twice this week, once for an opening of some wonderful jewelry and secondly for an exhibit by Art Behind Bars that featured artwork by currently incarcerated and recently released prisoners from the Monroe County jail. This fantastic program gives inmates a focus on something other than the circumstances which led to their situation and produces some great art.
India at Stone Soup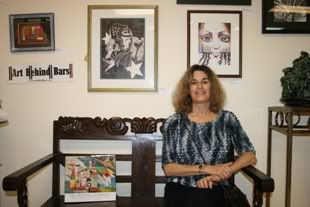 Lynne Vantriglia of Art Behind Bars
Finally, I spent a fun evening out with our friends Trevor & Nadene, Trevor was "celebrating" his last day of work for the Crowne Plaza , thanks economic downturn, and his new job at We've Got the Keys.
Trevor "Shooter" Orr & Friends
JohnSmith website