Matt Elliott
October 28, 2011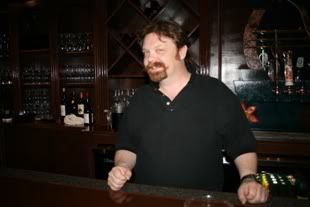 Matt
at IMS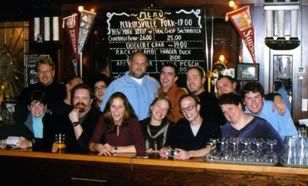 With the ODC at Bonge's
Matt Elliott
"Probably the finest example of a man anyone will ever know. Kind beyond measure, a great listener, an even better conversationalist, unbelievably well versed in all things Indiana and a pleasure to be around even when you'd heard enough about some small part of the city you didn't know existed."
-Facebook Post by Brugge Brasserie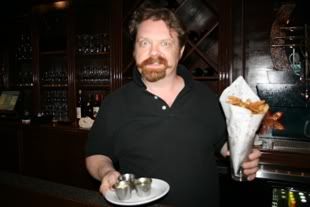 The quote above, written no doubt by one of Matt's closest friends, encapsulates in a few short sentences what I and so many others feel after hearing the tragic news of the sudden and unexpected passing of a great friend and an even better person. It is always a sad moment when you learn of the passing of someone that is close to you, though rarely have I ever been more stunned and numbed as when I received the call that Matt had passed suddenly of natural causes after a seemingly ordinary day working for my friends at Brugge Brasserie in Indianapolis.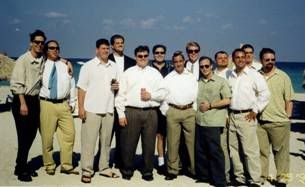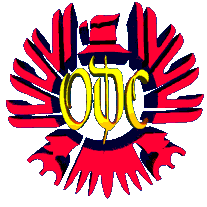 I have known Matt for more than thirty years, both a part of an exceedingly close-knit group of friends from the Broad Ripple neighborhood of Indianapolis which have come to be known as "The Old Dog Crew" or ODC. The moniker comes from our former fondness for Old Milwaukee beer, which was cheap and readily available back in the day before we knew or could afford actual good beer.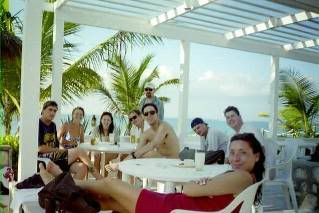 ODC in the Turks & Caicos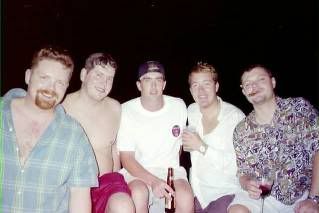 Matt, Kevin, Ted, Eli & Tim
As a group, we have managed to maintain an unlikely and rare strong bond despite the fact that many members such as myself have spread out around the country. Wherever we ended up, our hearts and many of the group remained in Indianapolis. Over the years we have managed to gather on a semi-regular basis, at holidays, weddings, mutual vacations and every year during the month of May for the Indy 500.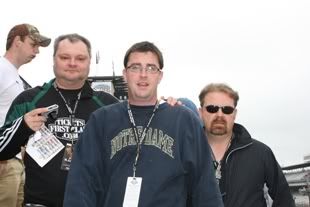 Tim, Ted & Matt
The Indy 500 is a part of the culture for those of us who grew up in Indianapolis and it was there where I last saw Matt this past May. We both shared a love of racing that went beyond that of the average fan. I would see Matt at the track regularly often with friends, but like me, he wouldn't hesitate to head out on his own. I can picture him now occupying his favorite spot in the top row of the Tower Terrace looking out of the beautiful expanse that is the Indianapolis Motor Speedway that was one of his favorite places.
With Ted Miller and his kids in the Tower Terrace
It was our shared love of racing which prompted a somewhat rare phone call from Matt about ten days ago. He knew that we had attended the Indy Car race in Las Vegas that claimed the life of Indy Car champion Dan Wheldon and he wanted to talk about it… he always seemed ready to talk. We shared our thoughts on that tragedy and then spoke briefly about what was going on in his life. Little could I have realized that would be my last of many, many amazing conversations.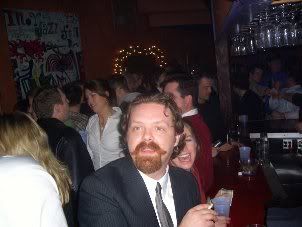 Speaking with Matt during that call makes his loss seem all the more tragic to me, because he seemed really, really happy with his life. When I spent time with him in May, he was mostly miserable. He was working selling cars, a job he despised but needed at the time after his beloved Northside News closed. Matt wasn't cut out for selling cars- he was far too honest and cerebral for that profession. Then our mutual friend and ODC member Ted Miller offered Matt a job working at Brugge, which was a perfect fit for both parties. I am not sure of what his duties were, but it involved working with the Brugge Brewery as well as at the restaurant and Matt seemed on top of the world when I spoke to him.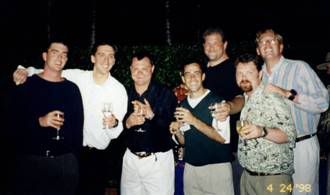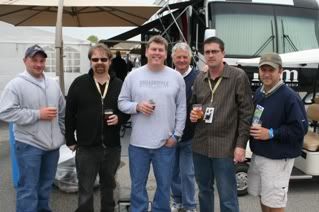 I could go on and on about what made Matt such an amazing person and friend but I think I will close by simply thanking him for his friendship. It has been an incredible privilege. His passing has made me really realize what a rare gift it has been to have such a close and beautiful group of friends that I have. I am distressed only that I was not able to immediately hop on a flight and head to Indianapolis upon hearing the news. I wish that I was there to share our mutual grief and offer some small comfort to my friends. Commitments here in Key West with Fantasy Fest and work have not allowed me to be there as soon as I would have liked. It has been a surreal experience being here in the midst of thousands of happy, partying people when I feel like an empty shell.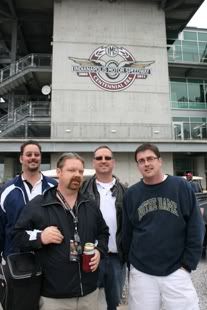 Kevin, Matt, Pat & Ted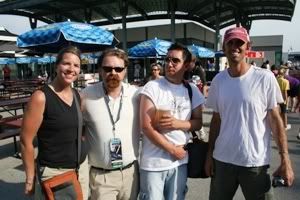 Becky, Matt, Brian & Rick
Our love, thoughts and sympathy are with all of Matt's family and friends during this incredibly difficult time. I will miss you so much Matt, I know that every time I go to the speedway I will look up to that spot high above pit lane looking for you and wishing like anything that you were there.