Zombie Ride II
October 25, 2011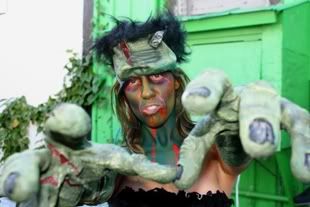 Holly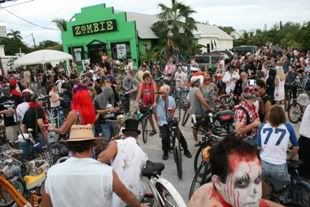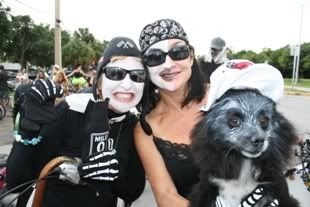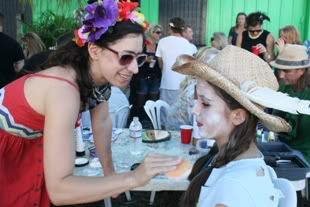 Zombie Ride II
The Sunday evening prior to Fantasy Fest has traditional been a down time, but that all changed last year with the introduction of what has instantly become one of the top events of the week, the Zombie Bike ride. Last years' event was an instant success and this year it exploded into a huge extravaganza and yet maintained all the fun and excitement of hundreds of participants riding across town dressed as Zombies.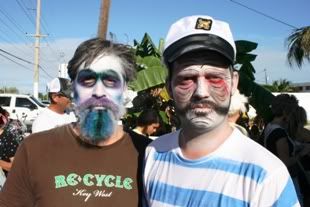 Evan & Jolly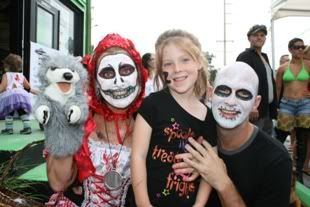 Kathy, Rosie & Eric
One of the great things about this is that it is filled with locals. In fact my guess is that it is almost exclusively made up of locals. Many people that live here rely on Fantasy Fest for a good chunk of their income and thus spend much of the latter portion of the week actually working and having to miss out on participating in many of the events. This event is held earlier enough in the week and at a unique time when it just isn't all that busy yet, so for some people- this is their Fantasy Fest.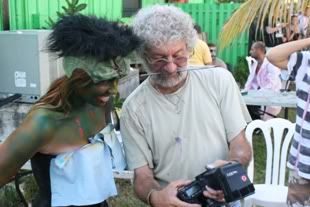 Tony Gregory
The inaugural Zombie Bike ride was held a year ago and attracted somewhere between 300-500 people, all dressed as Zombies and all riding bikes from the starting location at Recycle Bike Shop on Stock Island through town to Duval Street and beyond. This year the massive turnout was at the very least double and probably more. My estimate is that there were between 800 and 1000 people in the ride this year. Whatever the exact number, it was a complete mob scene. Thankfully I had pre-arranged to have my face painted and worked it out to have artist Tony Gregory do the painting.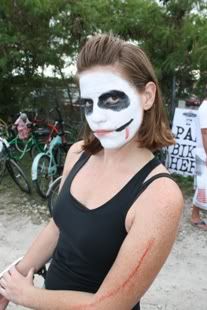 Breanne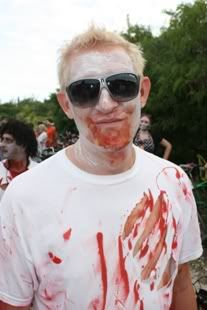 Chris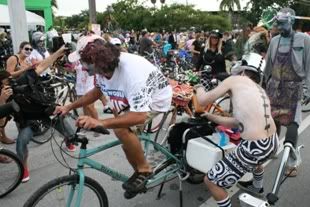 They had a number of talented face painters available and demand exceeded availability in the time provided, yet somehow everyone seemed to get prepared in time for the six o'clock in the evening departure from Recycle. Many people, Kathy among them, took it upon themselves to do their own make-up and costumes and it was obvious that Key West has a plethora of talented and creative people.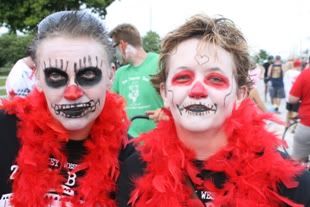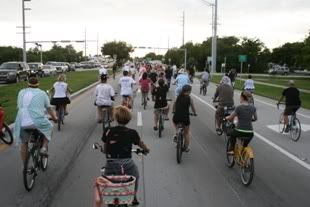 Scott & Wendy
The huge mob was led out on to US 1 under the protection of a cadre of Key West police officers on motorcycles who closed the road and provided protection for the zombie hoard. It was an impressive sight to see the huge crowd filter onto the highway and turn down along the beach front in to a beautiful perfect Key West sunset on the way to Salute restaurant which was the site of the first stop. Once the riders got strung out, it took almost ten minutes of continually passing riders for them all to pass a specific spot. It was amazing.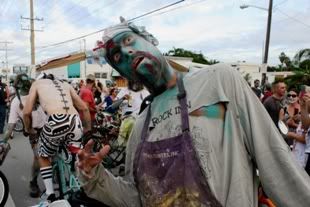 Bruce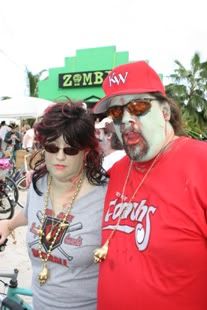 Nan & Mark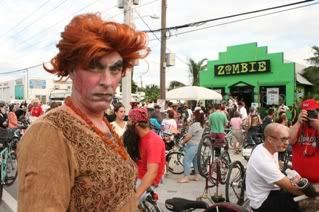 Tom
The zombie beach party broke out on Higgs beach in front of Salute as there was no possible way even a fraction of the crowd could fit in to the restaurant. Zombies danced on the shore and an attempt a group photo was made, though that also proved fairly impossible. It was cool because we kept running in to more and more people who we did not even realize were a part of the event because of the large crowd size. It was a fun, fun evening and just the first portion of the Zombie event.
Sue