Goombay 2011
October 24, 2011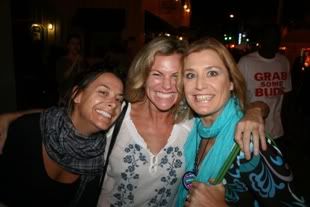 Julie, Kim & Kathy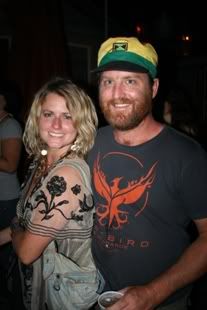 Esme & Cayman
Goombay 2011
The official kick-off of Fantasy Fest, the annual Goombay Festival was held this past Friday and Saturday and in my view it was another great weekend and festival to get things started. There have been grumblings among some locals and in the local press that Goombay has lost something in the past few years and that it is no longer what it once was. To be certain, there are areas where the festival could be improved, but to me the magic that is Goombay is not found in the quality or abundance of vendors or entertainment but in the tremendous sense of community that is on display each year. By that measure, this years' Goombay was as amazing as ever.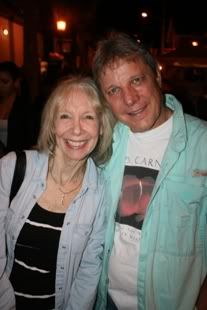 Carolyn & Steve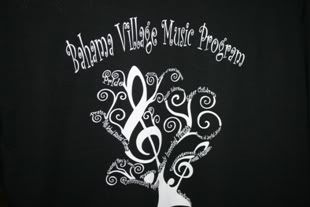 The festival, which celebrated its thirty-first birthday this year, is held all day and night on both Friday and Saturday and this year, I made a number of trips down to take advantage, heading down for lunch on Friday, then back after attending a sunset wedding on Friday night and then back again for another round on Saturday night.
Lou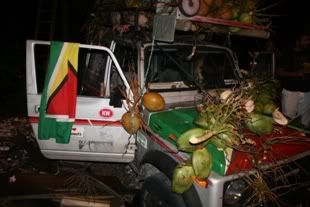 This year the event was expanded in physical size, the main stage was moved two blocks further down Petronia Street to the park on Fort Street. This simple expansion made for a much more open and comfortable setting to watch the main stage entertainment and spread the massive crowds out a little more, reducing the congestion of the festival.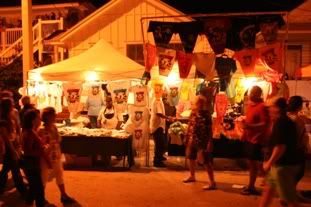 Kim & Kathy
Kathy G & Carol
The food is not what it once was, there seems to be an abundance of similar vendors offering the same meat on stick, arepas and the like. An influx of local offerings would be helpful, but there was no shortage of food and my favorite falafel vendor, Lou was back at his familiar space outside of Blue Heaven.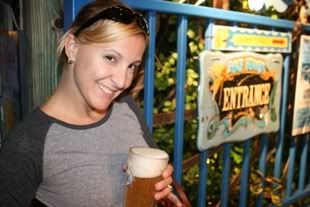 Julie
Bruce & Susan
Lisa, Kris & Todd
Not that the food or vendors matter all that much to me anyway, the real reason that Goombay is so awesome is that almost everyone in the community turns out for the event. The diversity and spirit that make Key West such a unique and wonderful place are on full display at Goombay in a way that is not found at any other place so vividly throughout the year.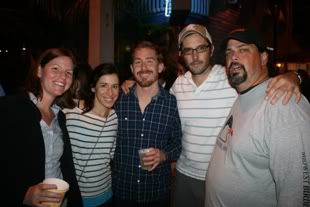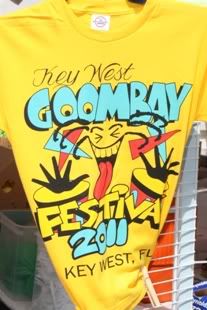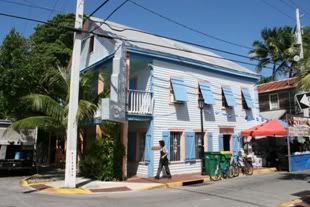 Populated by a vast majority of locals, you can count on seeing hundreds of old friends, some who you may not have seen since last years' Goombay. Most of our group of friends can be found either night on what is known as "The Corner" between Blue Heaven restaurant and Johnson's Grocery. We literally hang out for hours greeting friends, sharing food and libations and taking in the exuberant festivities as they happen around us. The Blue Heaven itself is also a popular spot as they have great bands playing atop the water tower in the courtyard behind the building, which fills with happy dancing revelers.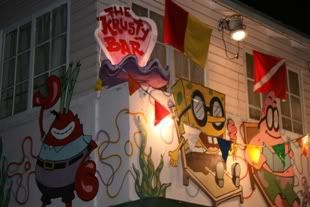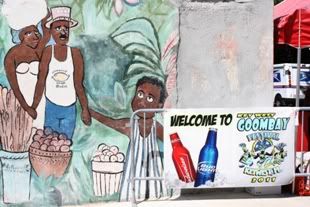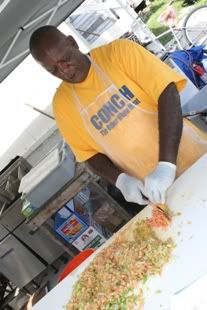 It remains one of my favorite Key West events and once again we had a splendid time at Goombay. By the time the week of Fantasy Fest is over, it can be easy to forget or dismiss Goombay, when in reality it is one of the best events of the entire week. I already am looking forward to the thirty-second annual edition next year.
Goombay Festival